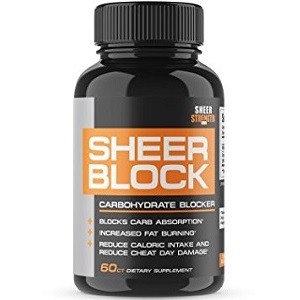 Sheer Strength Labs Sheer Block Carbohydrate Blocker - Does It Work?-Review
What is Sheer Strength Labs Sheer Block Carbohydrate Blocker?
This review on Sheer Block Carbohydrate Blocker examines this product  used to support weight loss. The manufacturer claims that this dietary supplement blocks carb absorption, increases fat burning, reduces caloric intake, and reduces 'cheat day' damage. This supplement promotes weight loss.
Ingredients & How It Works
This dietary supplement contains:
White kidney bean extract (445 mg) – This substance inhibits carbs by preventing starches from being digested. In addition, this substance is a good source of soluble fiber. Fiber breaks down in water when in the stomach. Soluble fiber lines the stomach, making the user feel satisfied for longer. In addition, the fiber stabilizes blood-glucose levels, thus averting insulin spikes. Furthermore, this substance, which is high in vitamin B9, strengthens the heart. Folic acid reduces the build-up of homocysteine that could lead to strokes, heart disease and heart attacks. Besides vitamin B9, it is also rich in vitamin B1 that supports good brain health and cognitive functioning. However, the amount of this extract is small.
Green Tea Catechins (100 mg) – The water-soluble polyphenols or catechins found in green tea leaves, support good heart health, help with weight loss, are rich in antioxidants, protect the liver, and increase blood flow.
Daily Serving
The recommended dosage, according to the manufacturer is 1 capsule with a glass of water daily. No mention is made of whether this capsule should be taken with or without food, before, or during a meal. A doctor should be consulted before starting on this supplement if you are nursing, pregnant, on prescription medication, or have a disease. Do not exceed the dosage.
The Cost
60-capsule bottles are available online on the manufacturer's website at $19.97 This purchase price excludes the shipping fee. Free shipping is only on orders over $45.00. No discounts are offered.
Guarantee
The manufacturer offers a 30-day 100% money-back guarantee. This allows a free test of this dietary supplement. If there are side effects, or if the product is not meeting expectations, it may be returned for a refund.
Our Review Summary of Sheer Block Carbohydrate Blocker
As a weight-loss product, this carb blocker comes with a full money-back guarantee. This allows customers to return Sheer Block Carbohydrate Blocker if ineffective or unsuitable. The product contains ingredients that are known to block carbs. However, the quantity of 445 mg of White Kidney Bean Extract is small compared with other, similar carb blocking products containing White Kidney Bean Extract, which range from 750 mg to 1000 mg. Of concern is that 65 reviews on Amazon alone have been deleted, with 36.1% reviews being of low quality; some appearing deceptive. It may therefore be better not to use this dietary supplement. The quality of the ingredients is inferior to other, similar carb blocking and weight loss products on the market currently. There are slimming dietary supplements that come with better quality of reviews than this particular weight loss product.
Well researched reviews, from the experts at Research & You.