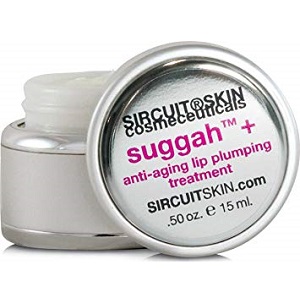 Sircuit Cosmeceuticals Suggah+ - Does It Work?-Review
What is Sircuit Cosmeceuticals Suggah+?
This review focuses on the product Suggah+, manufactured by Sircuit Cosmeceuticals. The claims are that this product 1) restores comfort and softness to the skin, 2) enhances the visual appearance of the vermilion border (inner lip line),3) protects, soothes and offers greater hydration to the skin, and 4) is suitable for all skin types, including sensitive skin. Continue reading this review to learn more about this product.
Ingredients & How It Works
Shea butter
Jojoba oil
Cocoa seed butter
Yogurt extract
Tropical fruit harvest
Coffee
Tea
The ingredient shea butter moisturizes as well as soothes, boosting the skin's general quality and visual appearance. Jojoba oil is a moisturizing emollient that reduces moisture loss. It enhances skin hydration, leaving the skin smooth and soft to the touch. Cocoa seed butter ameliorates chapped and dry lips. Yogurt extract is packed with protein and known for its moisturizing properties that work to hydrate the outer layer of skin (stratum corneum). Tropical fruit harvest affords revitalizing moisture, softening the lips. This ingredient is also known as a remedy for relieving dry lips. Coffee shields the skin against detrimental free radicals. Green tea has anti-aging properties that make skin smooth and soft. Key elements that the manufacturer has omitted, however, include willow herb flower as well as peppermint oil. This product is cruelty and phthalates free.
Instructions
The product should be applied to the vermilion border (white roll surrounding lip line) and lips, both mornings and evenings. This product is not lip balm, warns the manufacturer, and must not be used as such. Instructions are nevertheless not as succinct as step-by-step instructions would be.
The Cost
This anti-aging lip-plumping product is available online, directly from the manufacturer in a 0.50-ounce (15 ml) tube at $38.00. As the price is below $50.00, free shipping is not included for a single item. More so, the manufacturer does not offer any discounts or bulk offers for consumers, which could have saved them money and rewarded them for their ongoing loyalty.
Guarantee
Irrespective of our research efforts, no manufacturer's guarantee of any kind was discovered. This is a concern: it might imply that this product is not effective. There are also no customer reviews on the company's website as yet, which could mean that this product is not popular.
Our Review Summary Of Sircuit Cosmeceuticals Suggah+
The product Suggah+ appears a useful product, being cruelty free and comprising certain good ingredients. However, this product lacks a guarantee. The consumer is at risk when buying this product, and the manufacturer does not offer any bulk offers with discounts that would help the consumer to save money. Also, this product does not attract free shipping, one item costing less than the minimum amount for free shipping. The company thus hopes that the consumer will buy more than one product so as to obtain free shipping. With that, there are many other similar products on the market currently which are offering better quality ingredients, firm guarantees and attractive package deals with discounts. However, this product fails to meet to that standard.
Well researched reviews, from the experts at Research & You.