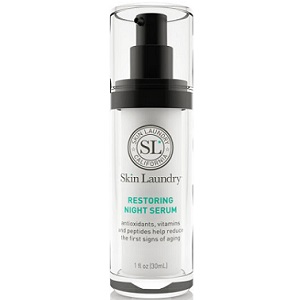 Skin Laundry Restoring Night Serum - Does It Work?-Review
What is Skin Laundry Restoring Night Serum?
This Skin Laundry Restoring Night Serum review focuses on the organic ingredients in this product and their effectiveness at reducing the signs of aging and brightening dark spots to even out skin tone. This product is also designed to nourish skin cells and boost their collagen production to give skin a healthy look. We also take a look at the customer services that this manufacturer offers.
Ingredients & How It Works
Niacinamide
Dictyopteris Membranacea (algae) extract
Citric Acid
Aphanizomenon Flos-aquae (cyanobacteria) extract
The niacinamide and citric acid contain certain vitamins that helps to nourish the skin cells and they are both antioxidants. Antioxidants help to reduce inflammation in the skin which is often the direct cause for accelerated aging and skin damage that manifests as dark spots. The dark spots are also taken care of by the algae extract and the cyanobacteria extract. These organisms contain various proteins and signaling molecules that have been shown to rejuvenate the skin and reduce pigmentation.
Instructions
Three to four drops of Skin Laundry Restoring Night Serum can be massaged into the face and neck area after it has been cleansed and toned. The manufacturer highly recommends applying a moisturizer after using this product. We believe this to be a shortfall of the product because it should perform a moisturizing function as well like some other night serums do. Be cautious with this product around the area of the eyes.
The Cost
For the price of $60, customers will receive a 1 fl oz bottle of Skin Laundry Restoring Night Serum. Unfortunately there are no subscription services or general discounts available for this product but the manufacturer does have a loyalty program that customers can sign up for to receive a 15% discount. Free shipping is also offered on all orders over $50 which includes this product as long as it remains at this price.
Guarantee
Products which have not been opened or used can be returned within 30 days of the order as long as the original receipt is attached. This returns policy is only relevant for products purchased directly from the manufacturer. There is no protection for customers who have already opened the product and found that their results are not to their satisfaction. This inspires less confidence in the product because it shows a lack of a certain commitment from the manufacturer's side.
Our Review Summary Of Skin Laundry Restoring Night Serum
There is limited evidence to the effectiveness of the ingredients in this product and it is slightly problematic that customers may not return the product for a refund if they are not happy with the results. Overall there isn't a very large amount of evidence to support the effectiveness of this product. However the instructions of this product are quite easy to follow and the price is fairly reasonable. With all the facts considered it is a much better option for customers to purchase a product that has a guarantee and has ingredients that are better supported by scientific research. 
Well researched reviews, from the experts at Research & You.