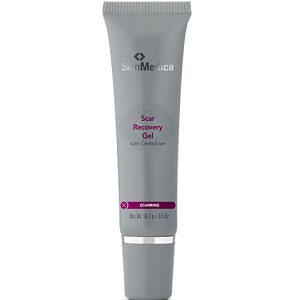 SkinMedica Scar Recovery Gel - Does It Work?-Review
What is SkinMedica Scar Recovery Gel?
SkinMedica Scar Recovery Gel is a topical product for application on scar tissue in order to reduce its appearance. Scars are formed as part of the natural healing process of repairing a break in the skin, but they can have a very unaesthetic and unpleasant appearance. They are also quite weak  compared to normal epidermal skin. Some scars may regress naturally but this takes ages or it is incomplete. That is why products like this exist, to help rid customers of scar tissue. We look at the possible effectiveness of SkinMedica Scar Recovery Gel to help you decide if it is best for you.
Ingredients & How It Works
Water
Poloxamer 407
Bulbine Frutescens Gel
PEG-40
Hydrogenated Castor Oil
Propylene Glycol
Dimethicone
Olea Europaea Leaf Extract
Centella Asiatica Extract
Xanthan Gum
Lactic Acid
Potassium Sorbate
Sodium Benzoate
Phenoxyethanol
There are many ingredients present in this product of which only a small amount play an active role. The rest contribute mainly to the texture and consistency of the product. Some are also preservatives. According to the manufacturer the active ingredients are: Bulbine Frutescens gel, Olea Europaea leaf extract and Centella Asiatica extract. The manufacturer provides no explanation whatsoever for the inclusion of these ingredients in their gel. However, there is scientific literature available that accounts for their healing properties. Bulbine Frutescens and Centella Asiatica extract both increase the levels of collagen in a wound, which helps to generate a firm layer of epithelial skin over the wound. Olea Europaea Leaf contains powerful antioxidant substances which decrease inflammation and tissue damage and speed up wound healing.
Daily Serving
The gel should be applied on the affected area in the morning and at night until this scar has diminished. It should not be applied to open wounds but rather as soon as the wound has closed.  The earlier this product is used the better the results will be.  The manufacturer cautions the user to wash their hands after the use of this product to avoid it getting in to sensitive areas.
The Cost
One tube will cost you $44.00. A tube contains half an ounce of the gel. There appears to be no discount for buying in bulk which does make the long term use of this product a bit more expensive. SkinMedica appears to offer a larger tube of 2 oz but does not specify what it will cost.
Guarantee
Despite extensive research we could not find a guarantee on this product.
Our Review Summary Of SkinMedica Scar Recovery Gel
Although there is research that supports some of the ingredients in this product there are many synthetic additives that can cause adverse effects on the skin. For this reason and the fact that the manufacturer doesn't provide a space for customer reviews, we are not entirely convinced in the effectiveness of this product. We also believe that the price is rather high considering that no guarantee is offered on this product - so it is an expensive gamble to take. We firmly believe there are better products out there with better researched ingredients and better customer support probably for a lower price. 
Well researched reviews, from the experts at Research & You.