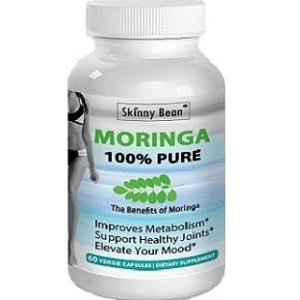 Skinny Bean Moringa Oleifera Extract - Does It Work?-Review
What is Skinny Bean Moringa Oleifera Extract?
This is a review of Skinny Bean Moringa Oleifera Extract. The manufacturer claims that their concentrated form of Moringa Oleifera is used to benefit overall health and also act as an antioxidant. Specifically, this dietary supplement claims to support healthy joints, act as a weight loss booster, improve the metabolism, and also better one's mood. To learn more on how Skinny Bean Moringa Oleifera Extract works, read our review below.
Ingredients & How It Works
There is only one active ingredient found in Skinny Bean Moringa Oleifera Extract namely, Moringa Oleifera leaf. Each vegetarian capsule contains 400 mg thereof.
When taken orally, Skinny Bean Moringa Oleifera Extract is believed to support many aspects of health. It also aids in the protection of cells due to its antioxidant properties.
Daily Serving
The manufacturer indicates taking two capsules once a day. It is best to take Skinny Bean Moringa Oleifera Extract 20-30 minutes before a meal with an 8 oz. glass of water. This will give you a total of 800 mg Moringa Oleifera, which is below the recommended amount of 1200 mg that should be consumed daily. Too little can be ineffective. It is not indicated to the specific mealtime it should be taken, which customers would prefer knowing.  Pregnant and nursing mothers and persons on medication should consult their healthcare professional before using this product.
The Cost
Skinny Bean Moringa Oleifera Extract can only be purchased online from the manufacturer's website. A bottle of 60 capsules will cost $27.00. There are no discounts provided or bulk packages available for purchase.
Guarantee
The manufacturer offers a 100% 90-day money-back guarantee on opened products. You do not even have to return the bottle. What is confusing is that the manufacturer also offers a 30-day refund or exchange only on products purchased for the first time. Customers may feel confused about the amount of days they have till they can ask for a refund.
Our Review Summary of Skinny Bean Moringa Oleifera Extract
There are certain things to like about Skinny Bean Moringa Oleifera Extract. It comes in easy to take capsules which are also vegetarian and it is comforting that the manufacturers offer a guarantee. Unfortunately, there are a few concerns we have about the product. The dosage seems to be too little and will result in customers feeling no change in their health. With this concern, there is also confusion around the amount of days given to return the product for a refund. Even if it was only 30-days, this is too short time to know if the product will work. The manufacturer does not have any discounts or bulk package deals available for customers. There are also no reviews for customers to read to indicate the results of this product. A poor guarantee, a lack of reviews, and a product with a significantly low serving size may support the fact that it is ineffective. These reasons lead us to not recommend Skinny Bean Moringa Oleifera Extract as a Moringa dietary supplement. 
Well researched reviews, from the experts at Research & You.