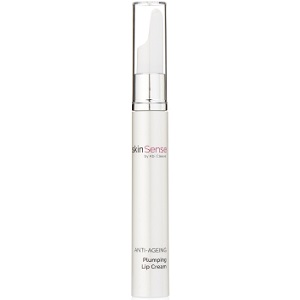 Skinsense Plumping Lip Cream - Does It Work?-Review
What is Skinsense Plumping Lip Cream Review?
In this review, the product Plumping Lip Cream, manufactured by Skinsense, will be examined. This lip-plumper product is claimed to moisturize the lips, while adding volume and making the lips appear smoother It has been formulated to reduce the wrinkles around and over the lip areas. Continue reading this review to discover the facts about this product.
Ingredients & How It Works
Dicaprylyl ether
Glycerine
Arginine
Retinyl palmitate
Vitamin E
Panthenol
The manufacturer of this product does not list which ingredients are active and which are not. Dicaprylyl ether is an emollient and conditioner that helps to regulate moisture balance by retaining moisture. This substance also helps to smooth the skin. Another moisturizing agent is glycerin, whereas arginine, an amino acid, has antiseptic properties. The benefit of this property is that it helps to fight off sores while protecting the skin against flakiness and dryness. Vitamin E helps to locks in the moisture. The ingredients in the formula are not the best at plumping up the lips. More so, this product lacks the inclusion of patented clinically proven ingredients.
Instructions
User instructions are not given. This is a concern, as potential consumers should have such information before buying a product, to see whether it will work for their lifestyles.
The Cost
For $36.27 a consumer may purchase a 15 ml tube online. The manufacturer offers no discounts nor any package deals which would have saved the consumer money over the long term.
Guarantee
There is a two-week (14-day) return guarantee backing this product. The company states that they will offer either a refund, replacement, or exchange. Still, this pledge is not very clear, the company merely stating that the product should be in an acceptable condition. It is unclear whether the consumer may test the product or whether it must be returned unopened. Reviews are normally a good gauge of how other people have experienced a product − both positive and negative aspects. However, there is only one customer review on this product, which is nowhere near a proper gauge of how this product might affect others. This is a concern: it may imply that this product is not popular, hence the lack of reviews.
Our Review Summary Of Skinsense Plumping Lip Cream
Plumping Lip Cream seems a useful product. It comes with a guarantee, and the product contains ingredients that can hydrate the lips. However, the guarantee is not very clear. There are also no package deals with discounts that would have saved users money and rewarded them for their loyalty. Also, this product lacks the inclusion of any patented, clinically proven ingredients that are known to be effective for plumping up the lips. Lastly, there is only one customer review on this product which implies that this product is not very popular. There are other products that offer better quality ingredients, firm guarantees, package deals with discounts, clear information on their website that is useful and succinct, and overall better value.
Well researched reviews, from the experts at Research & You.