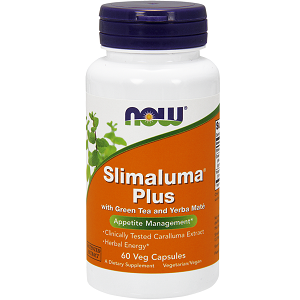 Slimaluma Plus - Does It Work?-Review
What Is Now Slimaluma Plus?
The below review will inform you of all the real facts about Slimaluma Plus. This product claims that it is an appetite management supplement that will not only assist you with weight loss by controlling your appetite but also provide you with a boost of natural herbal energy.
Ingredients & How It Works
Slimaluma Extract (Caralluma Fimbriata) - 500 mg
Green Tea Extract - 200 mg
Yerba Mate Extract - 200 mg
Slimaluma extract is otherwise better known as caralluma fimbriata and this plant extract is thought to assist with weight loss by suppressing appetite and may also boost endurance and burn fat, the known side effects according to research for this ingredient are stomach upset and pain, constipation and intestinal gas that should go away without treatment within a week. Green tea extract works as an antioxidant and ay benefit weight loss by cleansing your body from toxins and wastes. Yerba mate extract contains caffeine and other chemicals that stimulate the brain, heart, muscles, blood vessels and other parts of your body and is possible unsafe if used in too high dosages as it may increase the risk of many types of cancers.
Daily Serving
The manufacturer has advised that this product is strictly intended for adults only and that you should take two capsules twice daily and roughly 45 minutes prior to meals. There are no alternative dosages suggested and they do caution that you should first consult a healthcare practitioner prior to use if you are pregnant, nursing, using any medications or have any medical conditions as this product may not be safe. It is somewhat concerning that the manufacturer has failed to warn the research confirmed possible side effects that are relevant for the ingredients used.
The Cost
The manufacturer recommends that this product should cost you $24.95 for 60 capsules when purchasing it through the website link that they have provided. Considering that this is most likely only half a months supply when using it according to the manufacturer's recommended instructions, it is disappointing that this product has no suggested discount prices and does not seem to be sold in larger containers and is also then slightly pricey.
Guarantee
There seems to be no kind of money back guarantee offered or advertised by the manufacturer which definitely implies that there is a lack of confidence in this product and the other products offered by this manufacturer which is extremely concerning.
Our Review Summary Of Now Slimaluma Plus
Considering that this product might benefit weight loss by having some good ingredients, it could be viewed as an alright option however, there are far more downsides to this product when taking into account all the aspects that this product has as there is no money back guarantee, it is sold in small containers making it inconvenient, there are no discounts available and also the manufacturer has failed to provide adequate warnings and cautions regarding side effects. There is not much evidence to show that this product really is effective and therefore, it is recommended that you should rather consider other similar products available from leading brands that would be far more suitable.
Well researched reviews, from the experts at Research & You.