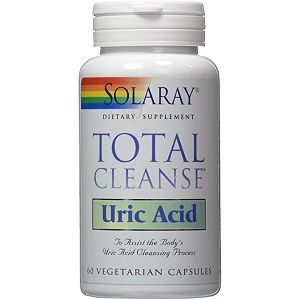 Solaray Total Cleanse - Does It Work?-Review
What is Solaray Total Cleanse?
Today we review a product called Total Cleanse manufactured by Solaray. Total cleanse was specifically formulated to help cleanse the body of uric acid that ultimately helps to minimize the occurrence of gout and gout flare-ups. Gout flare-ups occur when uric acid crystallizes and accumulates in the joints causing extreme pain, swelling and inflammation that can reduce movement and negatively impact your quality of life. Although pain can be managed by a number of methods it is best to get to the root of the problem, which is ultimately what Total Cleanse claims to do. If you would like to know more about this product and what it offers, read the rest of the review below.
Ingredients & How It Works
Vitamin C
Folate
Tart Cherry
Bromelain
Quercetin
Turmeric
Celery
Vitamin C and Folate is known for reducing the production of Uric Acid and for supporting efficient metabolism, whilst turmeric reduces and prevents inflammation in the entire body. Bromelain helps to break down any crystallization in the joints and prevents new crystals from forming and Tart Cherry has lots of antioxidants which can help to reduce pain and inflammation, especially in the joints.
Daily Serving
It is advised that you take 2 capsules per day with a glass of water or with meals. If you are pregnant, nursing or you have ulcers or gallstones you should not take this supplement. Speak to your doctor if your gout flare-ups persist or if the problem worsens.
The Cost
You can buy this product directly from the manufacturer's website for $17.99. Each bottle comes with 60 veggie capsules and you will usually receive your order within 1-2 business days. Free shipping applies to orders over $100, and $6.95 will be charged for shipping and handling expenses on orders under $100.
Guarantee
There is a 100% money back guarantee applicable on one opened package. This guarantee lasts for 30 days following the date of purchase.  If you want to return more than one package then the extra bottles must be unopened and in their original packaging to qualify. You will also be charged a 20% restocking fee on all returned items, opened or unopened.
Our Review Summary Of Total Cleanse
We like that this product goes right to the root of the problem. It targets the causative issue to get rid of gout, which means that it can be more effective in the long run and that it helps the body to get rid of Uric Acid naturally. We also like that this product has been reasonably priced, so it is affordable for everyone to get relief from gout flare-ups. However, we are concerned about the guarantee policy of this product. The guarantee claims that it is a 100% money back guarantee, but you will have to pay a 20% restocking fee on all purchases which proves that it is only an 80% money back guarantee. This dishonesty in terms of quality when it comes to a good guarantee policy is very disappointing and makes us wonder if it would be wise to put our faith in this product.
Well researched reviews, from the experts at Research & You.