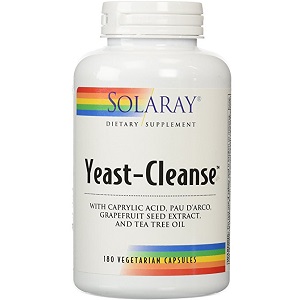 Solaray Yeast Cleanse - Does It Work?-Review
What is Solaray Yeast Cleanse?
This review is going to take a closer look at Solaray Yeast cleanse to learn more about it and to determine whether or not it is a worthwhile supplement. This Yeast Cleanse is a dietary supplement that is made up of a variety of ingredients that are designed to help clear up yeast infections and alleviate bothersome symptoms. The manufacturer claims that their supplement will offer relief from symptoms like vaginal itching, burning and cloudy and white discharge.
Ingredients & How It Works
Dietary Fiber - 1 g

Vitamin C - 35 mg

Calcium - 162 mg

Magnesium - 82 mg

Zinc - 7 mg

Caprylic Acid - 2,160 mg

Pau D'Arco - 240 mg

Garlic - 240 mg

Licorice - 240 mg

Tea Tree Oil - 60 mg
Other Ingredients: Vegetable Cellulose Capsule, Whole Rice Concentrate, Cellulose, Dong Quai Root, Fennel Seed, Silica, Glycerin, Magnesium Stearate.
Vitamin C is incorporated to help boost your overall immune system which can play a factor in your body's ability to fight off infections. Pau D'Arco is used as a cleanser that can cleanse your body of toxins and can kill fungal growth. Calcium can help balance pH levels which play a role in reducing your chances of developing a yeast infection.
Daily Serving
The manufacturer recommends taking six capsules daily with a meal or with a glass of water. You can split the dosage into half and take three capsules twice daily with a meal or with a glass of water.
The Cost
You can purchase Solaray Yeast Cleanse exclusively from third-party retailers. We were able to find one 90 capsule bottle available on a third-party retailer's website for $17.29. There are no bulk purchasing options but that can vary according to the third-party retailer you purchase this supplement from.
Guarantee
The manufacturer does not offer a money-back guarantee. Any guarantees will be subject to the terms and conditions of the third-party retailer you purchase from.
Our Review Summary Of Solaray Yeast Cleanse
Solaray Yeast Cleanse appears to be a decent supplement that can potentially help you get relief from common symptoms of a yeast infection and can prevent them from occurring. It is made up of several ingredients that have been shown to contain properties that are believed can relieve common symptoms of a yeast infection. The manufacturer has a bright and extensive website but does not offer any information about how this product works or what it's designed to do. Aside from the supplement facts, there is no further information about what this supplement does or what its risks and benefits are. This yeast cleanse is not backed up by a manufacturer's guarantee. This is risky for the consumer and it suggests that the manufacturer is not confident in its product's abilities. It also means that if you purchase this supplement and find that it does not work for you, you cannot get your money back. Taking these factors into consideration, you are better off purchasing a supplement that has plenty information and one that is backed by a strong manufacturer's guarantee for consumer protection.
Well researched reviews, from the experts at Research & You.