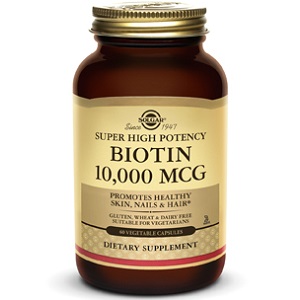 Solgar Biotin - Does It Work?-Review
What Is Solgar Biotin?
Biotin is a water-soluble B-vitamin also called vitamin H. It helps to promote healthy skin, nails, and hair, and is necessary for certain enzymes to work properly, and promotes healthy cell function in the body.  Biotin also supports energy metabolism in the body and is required for protein, carbohydrate, and fat metabolism.
Ingredients And How it Works
Active Ingredient:
Other Ingredients:
Microcrystalline Cellulose
Vegetable Cellulose
Vegetable Stearic Acid
Vegetable Magnesium Stearate
Microcrystalline Cellulose - refined wood pulp, it has no substantial absorption.
Vegetable Cellulose - cellulose is often extracted from plants, including tree bark, and used as a food additive. Classified as a safe additive.
Vegetable Stearic acid - a waxy oil fraction that acts as a lubricant to fill capsules. It is used as an ingredient that helps tablets hold together and break apart properly.
Vegetable Magnesium Stearate -  poses as a contaminant and might hinder the outcome of the desired result.
Daily Serving
As a dietary supplement for adults, take one (1) vegetable capsule one to two times daily preferably with a meal, or as directed by a doctor or healthcare practitioner.
If you are pregnant, nursing, taking any other medications or have any medical condition, please consult your doctor or healthcare practitioner before taking any dietary supplement. Discontinue use and consult your doctor or healthcare practitioner if any adverse reactions occur. Keep out of reach of children. Store at room temperature. Do not use if outer bottle seal is missing or damaged.
The Cost
Solgar is stocked by various stores and is also available for online purchase through third-party retailers at a cost of $13.20 for a container of 50 vegetable capsules.
Guarantee
In this review, we regret to have found that Solgar does not disclose any information about a return policy or a guarantee. This is definitely to Solgar's disadvantage as most leading brands offer a 365-day 100% money-back guarantee. We would like to point out that this is a major concern as it gives a bad impression about the manufacturer's confidence in their product.
Our Review Summary Of Solgar Biotin
In this review, we have found that Solgar Biotin is free of, gluten, wheat, dairy, soy, yeast, sugar, sodium, artificial flavor, sweetener, preservatives, and color. Although we have found that vegetable magnesium stearate is found in the ingredients, and this is an unpleasant fact as magnesium stearate is commonly associated with the risk of contamination. There is no return policy or guarantee stated by the manufacturer, which brings us to the conclusion that alternative manufacturers should be looked into.
Well researched reviews, from the experts at Research & You.