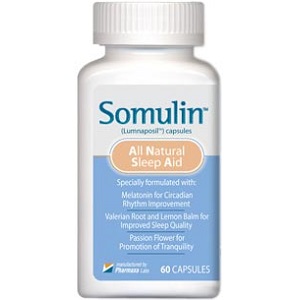 Somulin All Natural Sleep Aid - Does It Work?-Review
What is Somulin All Natural Sleep Aid?
The manufacturer of this product claims that it is the most effective sleep aid formula on the market. They argue that the supplement will provide quick calming and relaxing results. In this review of Somulin All Natural Sleep Aid, we have analyzed factors which contribute to the product's ability to deliver optimal results. The following information will equip you with the knowledge needed to make an ideal product purchase.
Ingredients & How It Works
Melatonin - 3mg
Valerian Root - 500mg
Hops - 45mg
Lemon Balm - 80mg
Lavender - 30mg
Passionflower - 60mg
Serotain - 45mg
German Chamomile - 50mg
Skullcap - 100mg
The ingredients listed above are found in many competitor products because of their beneficial properties. Each ingredient is included to offer relief from insomnia and works to calm the mind. Melatonin is a key ingredient that regulates the sleep/wake cycle and improves sleep quality. Valerian Root is known to provide soothing properties and relief from anxiety. Lemon Balm and Hops act as sedatives which primarily work to enhance mood. The additional ingredients, such as Passionflower and Lavender, ease the mind and relax the body. The inclusion of the patented ingredient Serotain bodes well for product quality. That said, many competitor products contain additional patented ingredients for improved benefits. This product has been manufactured in a cGMP certified facility which indicates that quality is a priority. However, these certifications are held by many competing brands. It is disappointing to note that this product does not include a dual day/night formula to support the bodies differing needs throughout the day. These formulas are offered by some competing brands.
Daily Serving
It is recommended that users take one (1) to two (2) capsules, with a glass of water, thirty (30) minutes before bed. Each serving supplies 3mg of Melatonin which is well below the market standard of 6mg. Therefore, the dosage is too low when compared to competitor products on the market. This brings the manufacturer claim, that the product is the most effective sleep aid, into question.
The Cost
This product is sold online from the manufacturer. A one month supply (60 capsule bottle) can be bought for $34.97. This price is relatively steep when compared to more affordable competitor products. The manufacturer does, however, offer bulk-buy deals to encourage prolonged use. The most popular offer is the 5 bottle deal for $174.85. While this offers saving potential, it still remains a relatively expensive product choice. Consumers may find more attractive offers for alternative products on the market.
Guarantee
A 100% money-back guarantee within 60 days of purchase applies to this product. This showcases confidence in the product's ability to deliver on manufacturer claims. That said, the return policy is vague. There is no mention of whether partially used products apply for a refund. The unreliable guarantee may not be ideal. Furthermore, the reviews showcased by the manufacturer cannot be wholly relied on as they are posted on behalf of the customer. Therefore, the manufacturer will only select the best reviews. There are insufficient reviews on third-party sites for us to accurately assess the reliability of this supplement.
Our Review Summary Of Somulin All Natural Sleep Aid
At first glance, this product seems an ideal choice. The manufacturer offers clear information and provides customer reviews to vouch for its effectiveness. What concerns us is that there are limited trustworthy customer reviews on third-party sites. We are also disappointed to note that this product is relatively expensive and that the guarantee is vague. For these reasons and more, we cannot recommend Somulin All Natural Sleep Aid for the relief of insomnia.
Well researched reviews, from the experts at Research & You.