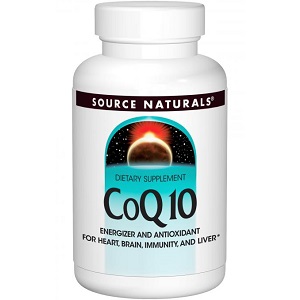 Source Naturals Coenzyme Q10 - Does It Work-Review
What is Source Naturals Coenzyme Q10?
The manufacturer of this CoQ10 supplement claims that the formula is designed to provide antioxidant support for the brain, heart, liver and immune system. Another claim made is that this is the highest potency CoQ10 supplement on the market. In this review of Source Natural Coenzyme Q10, we will take a deeper look at the facts to see if this manufacturer lives up to its claims.
These are the facts.
Ingredients & How It Works
As the name suggests, the main ingredient in this formula is Coenzyme Q10 (ubiquinone) which ranges from 60 mg to 400 mg depending on which strength capsule you choose. CoQ10 is essential for the main organs to function properly, it also helps with energy production within the cells. The additional ingredients in this formula are maltodextrin, gelatin (capsule), silica, and magnesium stearate which is disappointing seeing as additional fillers are known to hinder the potency and quality of CoQ10.
Daily Serving
The recommended dosage varies between 1-3 capsules depending on the strength of the formula. It is available in capsules, softgels, vegetarian capsules, lozenges, and vegiGels. The product should always be taken with meals. The dosage variation may be extremely confusing to those who don't know what the recommended dosage standard is and who haven't done their research.
The Cost
The price product varies depending on the capsule count you choose and the strength. The pricing ranges from $6.98 to $77.98. There are 30 to 400 mg strength options available in capsule counts of 30 to 120. This product is available for purchase directly online from the manufacturer.
Guarantee
Unfortunately, the manufacturer does not offer any kind of money back guarantee or returns for this product. This is very concerning as it says a lot about the confidence the manufacturer has in this formula. This is a red flag and may indicate that the product will not deliver any noticeable results.
Our Review Summary Of Source Naturals Coenzyme Q10
This seems to be a promising brand as the formula seems to contain the right ingredient beneficial for heart health. The website is also user-friendly. The main concerns we have is that the formula has additional ingredients which may affect the quality of the active ingredient. Consumers might also be confused as to which dosage may be the best for them because of the variations offered by the manufacturer. There is very little feedback from end users about this product which could mean it is not very popular or that it hasn't delivered any results worth mentioning. Since there is no money back guarantee, we also feel that consumers are at risk of losing hard earned money on a product that may not work. Based on our findings we do not feel that this is the best CoQ10 supplement on the market.
Well researched reviews, from the experts at Research & You.