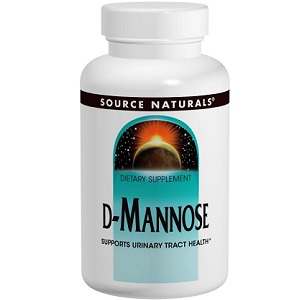 Source Naturals D-Mannose - Does It Work?-Review
What is Source Naturals D-Mannose?
Today we are reviewing Source Naturals D-Mannose, a dietary supplement designed to support the health of the entire urinary tract.  Urinary tract infections (UTI), also referred to as acute cystitis or a bladder infection, is an infection that affects part of the urinary tract. These infections occur more commonly in women than in men, and women are likely to have at least one infection at some point in their lives. A common treatment for UTIs is antibiotics but unfortunately, they are not preventative in nature.
Ingredients & How It Works
Primary Ingredient
Secondary Ingredients
Gelatin (capsule)

Maltodextrin

Dibasic Calcium Phosphate

Silica

Magnesium Stearate
This product contains no yeast, dairy, egg, gluten, soy, wheat, starch, salt, preservatives or artificial colors or flavors.  Derived naturally from fruits and some plants, D-Mannose is a simple sugar that inhibits certain bacteria from sticking to the bladder walls because the bacteria stick to the sugar instead. This helps the bacteria leave the body through the urine lowering the risk of future UTIs.
We were surprised to not find Lingonberry on the list of ingredients; it is known to be on of the best ingredients in fighting UTIs.
Daily Serving
The instructions on the label say to take one capsule twice daily. It does not indicate any further instructions except that if you are under medical supervision, pregnant or nursing you are advised to talk to your healthcare provider before using this product.
The Cost
The manufacturer sells this product in three different bottle sizes; with 30 capsules for $12.75; with 60 capsules for $23.98; with 120 capsules for $46.50. We recommend consumers do comparative research on other websites as we were able to find a 30 capsule bottle for $7.95; 60 capsule bottle for $12.21, and a 120 capsule bottle for $24.68.
Guarantee
Unfortunately, the manufacturer does not offer a guarantee for the product which is surprising given the number of manufacturers that do make risk-free buying options available to consumers who want to try a new product.  
Our Review Summary of Source Naturals D-Mannose
This product, containing a good amount of D-Mannose, is certainly an option to check out for those suffering from UTIs affecting the kidneys, ureters, bladder, or urethra. So that is the good news. But the question of whether this product is the best supplement on the market to actually prevent UTIs from occurring we're not convinced about.  It is missing a key ingredient, Lingonberry, that is understood to be key to this end. Additionally, it is rather disappointing that the manufacturer has not chosen to offer to give a risk-free buying choice to consumers, and they offer no satisfaction guarantee.  So if you try the product and you end up being unsatisfied, which is the case of many user reviews we read on this product, you are out the money.  It's certainly not the end of the world, but manufacturers that stand behind their product and give you the security of buying a product that they so strongly believe in is not something that should be dismissed.  
Well researched reviews, from the experts at Research & You.