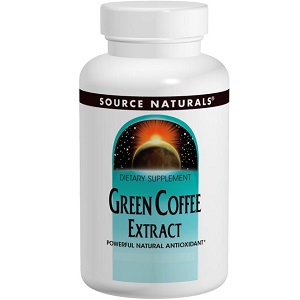 Source Naturals Green Coffee Extract - Does It Work?-Review
What is Source Naturals Green Coffee Extract?
This review is going to take a closer look at Source Naturals Green Coffee Extract to learn more about how this supplement works and to determine if it's worthwhile. Green Coffee Extract is derived from coffee beans that have not yet been roasted which allows them to maintain their levels of Chlorogenic Acid. The manufacturer claims that their supplement is a good source of powerful antioxidants that can help protect against oxidative stress caused by free radicals that are thought to be a factor in aging. The manufacturer claims that Green Coffee Extract has been shown to support normal cellular regeneration and growth.
Ingredients & How It Works
The only active ingredient in this supplement is Green Coffee Bean Extract. Green Coffee is just like regular coffee except that it has remained unroasted which allows it to preserve its levels of Chlorogenic Acid. Skipping the roasting process is what causes them to retain their green color and their levels of Chlorogenic Acid. This is crucial because Chlorogenic Acid is the key component in Green Coffee Bean Extract that offers a variety of health benefits. It is thought to affect how the body handles blood sugar and metabolism and is thought to be a good source of antioxidants that can support a healthy and natural weight and lifestyle.
Daily Serving
The manufacturer recommends taking 1-2 tablets once or twice daily.
If you are pregnant, nursing or under medical supervision, you should talk to your doctor before taking this supplement.
The Cost
You can purchase this product directly from the manufacturer or from third-party retailers. One 30 tablet bottle is priced at $16.97. A 60 tablet bottle is priced at $32.50 and a 120 tablet is priced at $63.50.
Guarantee
It appears that the manufacturer does not offer a money-back guarantee. We advise you to contact their customer service to inquire about their up to date return policy, should you choose to move forward with this supplement.
Our Review Summary Of Source Naturals Green Coffee Extract
This Green Coffee Extract appears to be a decent supplement. It is made to contain 50% Chlorogenic Acid and it comes in easy to take tablets. When researching this supplement, we were unable to find any consumer reviews which suggests to us that this supplement is not well-known or a popular option. Without consumer reviews, there is no way for us to know if this is a supplement that has had real results for real people. Source Naturals does not offer a manufacturer's guarantee which raises an immediate red flag for us. It suggests that the manufacturer is not confident in its product's abilities and it is risky for the consumer because it means that if you purchase this supplement and it doesn't work for you, you cannot get your money back. You are better off purchasing a Green Coffee Extract supplement that is well-known, has positive consumer reviews and is backed by a manufacturer's guarantee for consumer protection.
Well researched reviews, from the experts at Research & You.