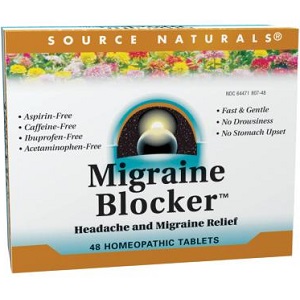 Source Naturals Migraine Blocker - Does It Work?-Review
What is Source Naturals Migraine Blocker?
This is an in-depth review of Source Naturals Migraine Blocker. This supplement is designed to provide safe, natural, and temporary relief from migraines. The manufacturer claims that it offers quick results. We have determined the truth of this claim by analyzing several important factors. The information outlined below will help you make an informed consumer purchase.
Ingredients & How It Works
Chamomile
White Bryony
Blue Flag
Butternut
Windflower
Bloodroot
Sodium Chloride
Magnesium Chloride
Phosphorus
Silica
Zinc
Deadly Nightshade
Yellow Jessamine
St. Ignatius Bean
Skullcap
This formula contains many ingredients that are known for their positive impact in reducing migraines. The addition of Chamomile and White Bryony are argued to have soothing properties that fight painful symptoms. The formula contains essential minerals such as Zinc, Sodium, and Magnesium. These ingredients work to support deficiencies that would, otherwise, lead to harmful chemical imbalances - thus, contributing to the onset of migraine attacks. There are many natural ingredients in this formula and this is positive to note. That said, a number of other ingredients would increase product efficacy. Butterbur and Riboflavin, for example, are found in competitor products for their essential role in combating headaches. The lack of these ingredients is a major concern. Furthermore, there is no indication that this product was produced following cGMP guidelines. This indicates that quality may not have been a priority during manufacturing.
Daily Serving
The manufacturer suggests taking this supplement at the first sign of symptoms. Tablets should be chewed slightly and allowed to dissolve in the mouth. It is advised that users take two (2) tablets initially, then one (1) tablet every 2 hours. The manufacturer does not provide the quantity of ingredients used, therefore, we cannot accurately determine the strength of this dosage. Dosage testing would need to be done to determine the best results, however, this is only possible after making a purchase.
The Cost
This product is not sold by the manufacturer. Potential customers can purchase it online through third-party sites. A package of 48 tablets costs $7.53 from Amazon. While this is relatively affordable, it is likely because the product lacks essential ingredients needed to be a total-care solution for migraines. There are no package deals available to ensure that prolonged use is not costly. This is another concern.
Guarantee
This product is not covered by a manufacturer guarantee. This suggests that they are not entirely confident in the product's ability to work as intended. This brings efficacy into question. Guarantees may apply on third-party sites, however, these typically don't apply to partially used products. There are limited customer reviews to support this product. This is very concerning as it means that we cannot vouch for the product's ability to deliver optimal results.
Our Review Summary Of Source Naturals Migraine Blocker
This product may seem like an ideal supplement. It contains beneficial ingredients at a really competitive price. That said, the low price is likely accounting for the lack of essential substances. Furthermore, there is no guarantee to instill confidence in a customer purchase. And finally, there are not enough reviews to support the efficacy of this product. For these reasons, we do not recommend Source Naturals Migraine Blocker
Well researched reviews, from the experts at Research & You.