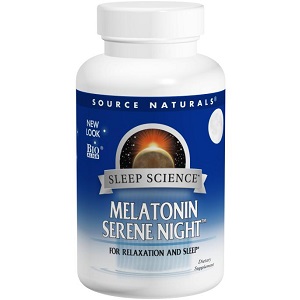 Source Naturals Sleep Science Melatonin Serene Night - Does It Work?-Review
What is Source Naturals Sleep Science Melatonin Serene Night?
The following review is for a product called Sleep Science Melatonin Serene Night. Sleep Science Melatonin Serene Night is a nutritional supplement intended to help those with sleeping disorders. The manufacturer claims that this product provides a healthy sleep by reducing anxiety and stress, which then gives you a night of uninterrupted sleep.
Ingredients & How It Works
Sleep Science Melatonin Serene Night contains the following ingredients:
  Melatonin
  Calcium
  L-Theanine
A product that promotes sleep is incomplete without melatonin. This is a natural compound that humans and animals have, which regulates their sleep and wake patterns. Melatonin together with calcium and L-Theanine have been included because of their ability to provide the body with nutrients that help them rest well. Calcium helps the brain to use the amino acid tryptophan to form and release melatonin. L-Theanine helps with focus, relaxation and sleep. We must mention that 3g of melatonin is too little to be effective. 6g of melatonin has been proven to be the right amount to promote healthy sleep.
Other ingredients added in the product are magnesium stearate, microcrystalline cellulose, modified cellulose gum, dibasic calcium phosphate, stearic acid and silica.
Daily Serving
The manufacturer recommends that you take one tablet per day before you go to bed.
This product is for use by adults only. People who have a medical condition, who are breastfeeding, pregnant or planning to get pregnant should seek advice from their physician before taking this supplement. Sleep Science Melatonin Serene Night should not be taken with intoxicating beverages or when driving or working with heavy machinery
The Cost
A container with 60 tablets is sold at $9.25, and a container with 120 tablets is sold at a price varying between $12.25 and $17.50 from the manufacturer's website and third-party retailers' websites. Unfortunately there are no discounts available for this product.
Guarantee
The manufacturer does not offer any money-back guarantee on Melatonin Serene Night. We searched everywhere on their website, and we could not find any information relating to the guarantee or return policy.
Our Review Summary of Source Naturals Sleep Science Melatonin Serene Night
Sleep Science Melatonin Serene Night contains melatonin, which is known as the sleep-inducing ingredient. Calcium and L-Theanine are also known to contribute to giving you the sleep and rest that you need. Therefore, we can say that these ingredients are good for a sleep-promoting product. However, we are concerned that the amount of melatonin included is not be enough for the product to be effective. Therefore, we cannot say that the product is as effective as it should be. Also, the manufacturer has not provided any guarantee for its effectiveness. This means that a customer buying this product from the manufacturer is doing so at his or her own risk. We also tried to find customer reviews but there were not any, which was disappointing. Without evidence from customers who have used the product and a manufacturer's guarantee, we are not able to recommend Source Naturals Sleep Science Melatonin Serene Night.
Well researched reviews, from the experts at Research & You.