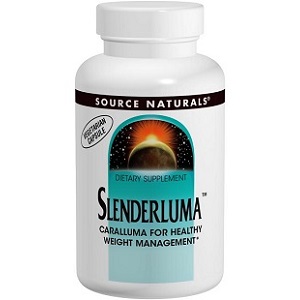 Source Naturals Slenderluma - Does It Work?-Review
What Is Source Naturals Slenderluma?
Read our review below for Source Naturals Slenderluma. This product claims that it is a dietary supplement that is designed to assist those who want to maintain a healthy weight. This product claims that it will help encourage healthy weight loss and also reduce appetite by getting rid of your cravings.
Ingredients & How It Works
Caralluma Fimbriata Extract 500mg
Caralluma Fimbriata extract may be able to block the enzymes that are responsible for the creation of fatty acids in your body. The blockage then stops the formation of new fat and forces your body to burn its stored fat which therefore assists suggests that it may assist with weight loss. This ingredient may cause some mild unpleasant side effects such as stomach upset, stomach pain, intestinal gas and constipation which should lessen and dissipate within a week of use.
Daily Serving
The manufacturer advises you to take one capsule, 2 to 3 times daily. The capsules must be taken at least half an hour before eating. It is also suggested by the manufacturer that in order to achieve maximum results you should use this product along with Maximum Metabolism Weight Loss Plan that comes with the product. If you are pregnant, nursing, or planning on becoming pregnant you will need to consult a doctor before using this product as it may not be safe. Unfortunately, the manufacturer seems to have failed to provide any other cautions or warning regarding the usage of this product which is both unusual and disappointing. According to our research, the main ingredient used may have side effects which the manufacturer has also failed to mention.
The Cost
A bottle containing 30 capsules will cost you $19.98 and a 60 capsules bottle will cost $37.98 while a bigger bottle containing 120 capsules will cost $73.98. All of these price options are available for you through the manufacturer's website and you may purchase them online.
Guarantee
There was no guarantee was found for this product. Not only is it disappointing that they don't offer a guarantee, because it can seem like they don't support their product enough to back it with a promise, but even more concerning because this is an extremely expensive product and if it is not effective, you cannot get your money back at all.
Our Review Summary Of Source Naturals Slenderluma
Source Naturals Slenderluma may seem like an ok product,as it does use one good ingredient, but it also contains several fillers where other similar products don't. This product is extremely expensive which is most disappointing because you cannot get your money back if you are not happy with this product for any reason and due to insufficient customer reviews and also the lack of guarantee, we conclude that this product is most likely not your best option and you should probably consider other options.
Well researched reviews, from the experts at Research & You.