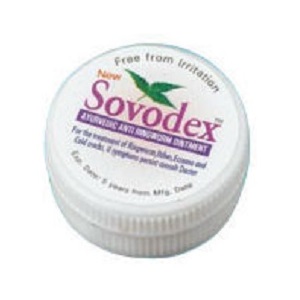 Sovodex Anti Ring Worm Ointment - Does It Work?-Review
What Is Sovodex Anti Ring Worm Ointment?
This review is for a product from Sovodex called Anti Ring Worm Ointment. According to the manufacturer, this product will help to eradicate the fungal infection that causes ringworm. This infection can also turn into jock itch or athlete's foot, depending on the area that is affected. These fungal infections may cause irritation like itching and burning. The skin that is affected will often develop a rash that has a raised round edge and silvery, dry skin in the middle. This condition is highly infectious so it is very important to get the infection under control before it gets out of hand.
Ingredients & How It Works
Tankan Amla (Boric Acid)
Salicylic Acid
Jasad Bhasma (Zinc Oxide)
Neem
USP
When we first looked at the ingredients included in this formula, we were rather surprised. It only contains natural ingredients. Additionally, this product does not contain any additives, preservatives, fillers, or binders. However, we were concerned by the lack of fungicidal ingredient in this formula. Our research indicates that these infections are often so strong that they are impossible to eradicate with natural ingredients alone.
Daily Serving
According to the instructions provided by the manufacturer, you should wash the affected area with water before drying it thoroughly. You should then apply a small amount of the formula to the affected area. If you are using this product to treat athlete's foot, you should pay special attention to any areas that are prone to staying moist and dark, like the skin between the toes. However, we would recommend that you stop using this product immediately if you notice any adverse skin reactions.
The Cost
Unfortunately, this product is not for sale on the manufacturer's website. We were also unable to find this product on any of the third-party seller's online stores. This means that we are unable to give you any indication of the cost of this product. Additionally, we are not sure if there are any shipping fees for this product.
Guarantee
Regrettably, it appears that there are no guarantees available for the customer who purchases this product. When a product has a guarantee, it indicates that the company respects their clients and believes in the efficacy of their product. Sadly, this does not seem to be the case here. Additionally, the manufacturer does not offer any return or refunds for their customers.
Our Review Summary Of Sovodex Anti Ring Worm Ointment
After we reviewed this product, we found that it could be effective for individuals who suffer from fungal infections on the skin. This product is made entirely from natural ingredients and there are no additives, preservatives, fillers or binders included in this product. However, we are not sure if we would recommend this product to anyone. We found that an antifungal product is only effective if it contains a fungicide, which this product does not. Additionally, this product is not available on the manufacturer's website or anywhere else. Finally, we could not find any guarantees for this product.
Well researched reviews, from the experts at Research & You.