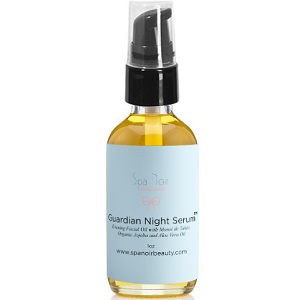 Spa Noir Guardian Night Serum - Does It Work?-Review
What is Spa Noir Guardian Night Serum?
This is a product review for Spa Noir Guardian Night Serum. In which we will discover if this night moisturizer lives up to its promise of being able to hydrate dry skin, combat the root cause of blackheads and diminish oil production. Claiming to contain a unique formula, let's investigate this skincare product further.
Ingredients & How It Works
Jojoba Oil
Aloe Vera Oil
Olive Squalene
Monoi de Tahiti
Vitamin E
The key ingredients included in this night serum are all said to be completely organic and have been included in this product for their various, potentially beneficial properties. Jojoba Oil is a known carrier oil that has been used in cosmetics for its hydrating and oil fighting potential. Aloe vera has been associated with improved skin health as this plant possesses anti-inflammatory, anti-bacterial and anti-astringent properties. Olive Squalene, is a form of olive oil commonly used in skincare, as it is a lighter version of its counterpart. Olive Squalene can assist the condition of the skin by lubricating and protecting against external damage.  Monoi de Tahiti is a fragrant oil that is produced by soaking the petals of Tiaré flowers in coconut oil and has softening qualities. Lastly, vitamin E has long been a favorite go-to for skin care products as it helps to heal scarring. This product is further said to include no parabens, petroleum by-products or artificial colors and is cruelty-free. However, it is uncertain if any of these ingredients are proven to work, as other products' ingredients have been.
Instructions
Using the airtight pump bottle, you should apply this night serum to the face after you have washed your skin before you turn in for the evening. This is said to allow the product to seep into the skin. It is unclear as to how much of this product you should be using at a time.
The Cost
To purchase Spa Noir Guardian Night Serum, you can head to the manufacturer's website where you can buy this 1 oz night serum for $25. Unfortunately, there were no discount offers available at the time of this review apart from an initial 10% discount when you create an account, with free shipping only kicking in when you order exceeds $39.
Guarantee
While the manufacturer does have a guarantee in place for customers who wish to exchange this night serum, it could be misinterpreted and is lacking. This is due to the description of this policy indicating that unopened product will be refunded or exchanged provided that you inform them within 30 days. However, it would seem that this period could actually be seven days as the number 7 is included in brackets - making this confusing.
Our Review Summary Of Guardian Night Serum
While uncovering information for our review of Spa Noir Guardian Night Serum, we did like that this product seemed to be completely natural and that it was packaged in an airtight pump bottle (preventing contamination by bacteria). However, we could find no past customer reviews, which could be an indication of how effective this product actually is. This, with the potentially misleading returns policy that does not allow you to test the product before sending it back to the manufacturer, did raise some concerns.
Well researched reviews, from the experts at Research & You.