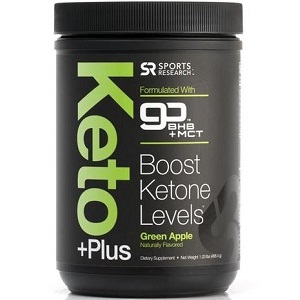 Sports Research Keto Plus - Does It Work?-Review
What is Sports Research Keto Plus?
Keto Plus (or Keto+Plus) is a ketogenic supplement by the manufacturer Sports Research. The manufacturer claims that this energy supplement can assist with sustained energy, boosting ketone levels, help to sustain mental focus and clarity, and that this product can be used as a pre-workout supplement.
Ingredients & How It Works
One scoop provides:
Calcium (840 mg)
Magnesium (173 mg)
Sodium (550 mg)
Potassium (560 mg)
Energy ketone blend (19.5 g) (Calcium Beta-hydroxybutyrate, Sodium Beta-hydroxybutyrate, Magnesium Beta-hydroxybutyrate, Potassium Beta-hydroxybutyrate)
Medium chain triglyceride powder on prebiotic acacia fiber (7.5 g)
Other ingredients: citric acid, calcium silicate, malic acid, silica, natural flavor, stevia, fruit and vegetable juice (color), and monk fruit
Calcium: above and beyond the assistances in building and sustaining durable bones, this element is also necessary for the nerves, heart, and muscles to work well. Magnesium assists to improved energy levels, calms the nerves, and moderates anxiety. It also useful with sleep, along with with digestion and reprieve from muscle discomfort. Medium-chain triglycerides are frequently absent in most Western diets, still, these are sources of healthy fats, and have a thermogenic effect on the body, which can increase metabolism. Such fats support a healthy gut, and have anti-inflammatory properties, allowing for weight loss, clearer thinking, added energy, and enhancing of the immune system.
Daily Serving
The recommendation, according to the manufacturer, is that one (1) scoop be mixed with eight to 10 ounces of water. The maker warns: do not exceed two serving per day.
The Cost
One container of Keto Plus is available on the manufacturer's website at $50.00. There are different flavors: green apple, watermelon, raspberry lemonade, cherry limeade and fruit punch. There are no package deals or discounts provided by the manufacturer.
Guarantee
The manufacturer provides a 90 day money-back guarantee on this product. If not satisfied, buyers may return it for a full refund. However, returns are only possible if they obtained the return authorization number and have the receipt. Plus, the money-back pledge is only valid for buyers from the US, which brought it direct from the manufacturer, or a select group of third party site such as Amazon, GNC and The Vitamin Shoppes.
Our Review Summary Of Keto Plus
The dietary supplement Keto Plus appears to be beneficial for boosting energy levels. This dietary supplement product is backed by a full money-back guarantee valid for 90 days. The ingredients, all-natural, are also known to lead to boost energy levels and can lead to weight loss. On the other hand, there are some concerns about this energy boosting product. With the lack of bulk package deals and discounts, this health product will not be cost-effective over the long term for a user, compared with comparable supplement products. In addition, reviews, which are a marker of how others have experienced this product, are not given. Furthermore, our research was not able to find a GMP certification for this health product. This would show the purity of the content and if the label and the ingredients match. Lastly, there are only three reviews on this product.
Well researched reviews, from the experts at Research & You.