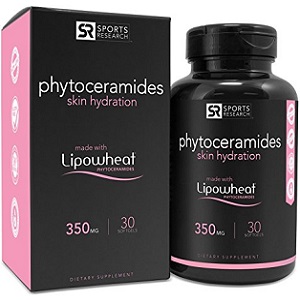 Sports Research Phytoceramides Skin Hydration - Does It Work?-Review
What is Sports Research Phytoceramides Skin Hydration?
This review is going to take a closer look at Sports Research Phytoceramides Skin Hydration. This product is a dietary supplement that is composed of a Phytoceramide concentration. It is designed to be taken orally in order for the Phytoceramides to successfully penetrate all of your layers of skin. The manufacturer claims that this supplement will help you to support healthy skin hydration.
Ingredients & How It Works
The only ingredient in this supplement is Phytoceramides made from non-GMO wheat Triticum vulgare. Every serving contains 350 mg and is enclosed in a kosher gelatin liquid softgels. Phytoceramides are ceramides that are derived from plants and are similar to the natural lipid called ceramides that are naturally found on your body. These lipids keep your skin hydrated and young-looking. As you age your skin loses ceramides which causes wrinkles and age spots to appear. Phytoceramides can penetrate all of the four layers of your skin and act as a stimulant for collagen production which is what increases skin elasticity and plumps the skin. They also encourage the development of a protective barrier that protects against sun damage and keeps your skin hydrated by retaining moisture.
Daily Serving
The manufacturer recommends taking one liquid softgel daily with a meal or as otherwise instructed by your doctor. You should talk to your doctor before taking this supplement if you are pregnant, nursing or under medical supervision.
The Cost
You can purchase this supplement from third-party retailers. We found one 30 softgel bottle for $22.95. There are no bulk purchasing packages or discounts but that can vary according to the retailer you purchase from.
Guarantee
The manufacturer claims that they offer a money-back guarantee but does not say how much time you have to request a refund or if their policy applies to both opened and unopened bottles. We advise calling their customer service to inquire about their up to date return policy, should you choose to move forward with this product.
Our Review Summary Of Sports Research Phytoceramides Skin Hydration
This product appears to be a decent Phytoceramide supplement. It comes in easy to swallow softgels for convenience and every serving contains a decent amount of Phytoceramides per serving. However, throughout our research of different Phytoceramide supplements currently available on the market, we found that most contain several crucial vitamins in addition to Phytoceramides. This leads us to question the effectivity of this supplement. Furthermore, the consumer feedback we saw is mixed. Some consumers attributed their improved skin condition to this supplement but many others claimed that this supplement does not work. Users reported that after continuously taking these softgels as instructed by the manufacturer, they did not see any improvement in the condition of their skin. Some even reported that it caused them to experience an allergic reaction or caused them to break out. You are better off purchasing a supplement with positive consumer reviews and effective ingredients.
Well researched reviews, from the experts at Research & You.