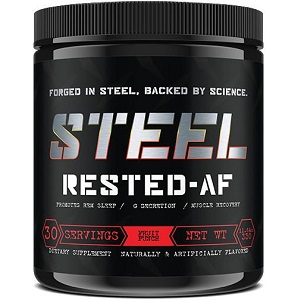 Steel Rested-AF - Does It Work?-Review
What is Steel Rested-AF?
This is a review of Rested-AF, manufactured by Steel. This is a pharmacist formulated, scientifically proven product aimed at helping one fall asleep faster. The manufacturer claims that Rested-AF improves sleep so drastically that one will need less sleep. To understand how Steel Rested-AF works and if it is worth trying, read our review below.
Ingredients & How It Works
Gamma aminobutyric acid
(rs)-4-amino-3-phenyl-butyric acid
L-tyrosine
L-arginine
L-ornithine
Safed Musli
Valerian Root extract
L-theanine
Mucuna Pruriens
Erythritol
Maltodextrin
Natural and Artificial flavour
Citric acid
Malic acid
Sucralose
Acesulfame-K
Silicon dioxide
Steel Rested-AF is filled with many ingredients, however, we were unable to find information about why these specific ingredients were used and the amount of each in the product. Rested-AF does contain L-ornithine, which is important for reducing stress, improving sleep quality, and offering relief for insomnia. It however lacks essential ingredients such as melatonin, hops, and taurine.
Daily Serving
The manufacturer recommends taking ½ to 1 scoop of Rested-AF in a glass of 8-10 oz. water. This should only be taken 30 minutes before bedtime as it is very potent. Persons using it for the first time should start with ½ scoop to test their tolerance. Do not exceed 1 serving in any 24-hour period.
This product is not to be used by persons under the age of 18 or by pregnant or lactating women. Do not use before the use of heavy machinery or before driving a vehicle.
The Cost
Rested-AF can only be purchased online from the manufacturer's website. It will cost $54.95 for a bottle of 330 g. This is quite pricey. The product is unfortunately currently out of stock. There is no indication to when there will be new stock available. Steel does not offer any discounts or bulk packages for the purchase of Rested-AF.
Guarantee
The manufacturer offers a 30-day money-back guarantee. This is however only for new, undamaged, and unopened items which are still in their original packaging. First contact the manufacturer before returning the product. Upon returning, you are subject to a 15% restocking fee as well as the shipping costs. Customers who want to try Steel Rested-AF for the first time are unable to return it if it does not work for them. Leaving the risk with the customer could lead them to rather purchase a product with a stronger guarantee.
Our Review Summary of Steel Rested-AF
There are a few things to like about Steel Rested-AF. It contains a very essential ingredient, L-ornithine which helps improve sleep and relieve insomnia. There are however a few negative aspects about this product. Other essential ingredients which are lacking from Rested-AF's ingredients list include melatonin, hops, and taurine. We also find that this product is a bit too expensive in comparison with other products for insomnia. There are also no discounts or bulk packages available. Steel does not offer a very strong guarantee for customers who have opened and used the product. Unsatisfied customers will not be reimbursed for used products. Due to a combination of these reasons, we are unable to recommend Steel Rested-AF.
Well researched reviews, from the experts at Research & You.