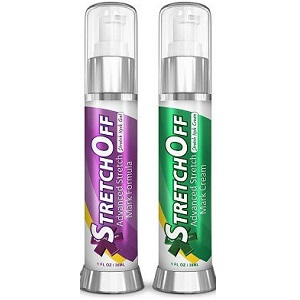 StretchOff - Does It Work?-Review
What is StretchOff?
In the world of skin repair treatments, StretchOff takes a unique approach with its complementary gel and cream formulations which, says the manufacturer, help dissolve stretch marks and even prevent them in the first place. According to the company, each of its components was chosen based on clinical data to ensure its efficacy. In our review below, we delve into the details of StretchOff to help you make an informed purchasing decision. 
Ingredients & How It Works
StretchOff Gel contains:
Dimethicone
Cyclomethicone (And) Dimethiconol 
Cyclopentasiloxane (And) Dimethicone/Vinyl
StretchOff Cream contains:
Carthamus Tinctorius (Safflower)
Helianthus Annuus (Sun Flower) Seed Oil
Allium Cepa (Onion) Bulb Extract
Tocopheryl Acetate (Vitamin E)
Allantoin 
Cymbopogon Martinii (Palmarosa) Oil
Helichrysum Stoechas (Immortelle) Extract
Made from a unique combination of medical grade Silicone gels, StrectchOff Gel is the main skin "rejuvenator". The formula is designed to repair stretch marks by enclosing the skin in a malleable silicone "seal" that keeps the moisture in and helps stretch marks heal more quickly. This process focuses on allowing new cells within the epidermis to form in a healthy manner. 
StretchOff Cream provides vital nutrients to the skin to help reduce the redness and boost the repair process. The Safflower, for example, is an excellent source of linoleic acid, a substance the body does not produce but which is important in helping your skin maintain its natural moisture. It helps smooth out the rough areas and increase the flexibility of your skin. Onion Bulb Extract has been used in traditional medicine to help heal scars. It also contains Quercitin which is said to reduce inflammation of the skin. Vitamin E is well known for its antioxidant properties and contributes to the formation of skin collagen. Emu Oil is included for its anti-inflammatory and skin protection abilities. Palmarosa oil helps in conditioning the skin and in cell regeneration. 
Daily Serving 
The recommended usage is to apply the StretchOff Gel three to four times per day and the cream twice, once in the morning and once at night.
The Cost 
At the time we researched this article you could buy both products individually or together from the manufacturer's website. A single tube of either product, containing 1 fluid ounce (30 ml) was priced at $49.95, while two tubes brought the unit price down notably to $34.95. Four and six-tube packs were available at $27.95 and $23.30 respectively.
You could purchase combined packages of the gel and cream as follows:
Two tubes of gel and one tube of cream: $31.95 each
Three tubes of gel and one tube of cream: $27.95 each
Three tubes of each (six total): $23.30 each
Guarantee 
You can try any combination of the products risk-free by taking advantage of the manufacturer's 60-day money back guarantee. This is a comprehensive return/refund policy which allows you to return both used and unused products any time up to two months after purchase.
Our Review Summary of StretchOff
StretchOff Gel and Cream look like a good combination for both repairing and rejuvenating skin that has been damaged due to stretch marks. Produced in FDA-approved facilities under cGMP standards in the USA, the formulas are based on clinical data which shows their effectiveness in reducing the redness and nourishing the skin. We like the flexibility of packages available and the money-back guarantee is strong. StretchOff is a product we think is worth trying.
Well researched reviews, from the experts at Research & You.