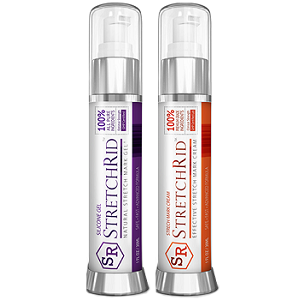 StretchRid - Does It Work?-Review
What is StretchRid?
A variety of factors like pregnancy, acne, significant weight gain or loss and aging can cause your skin to become marked and scarred. There are many skin treatments currently on the market but many of them do not contain the proper ingredients to be optimally effective and offer real results. This review is going to take a closer look at StretchRid. StretchRid is a 2-step dual action formula that helps reduce the appearance of scars and helps to rejuvenate your skin. The manufacturer claims that using this product will decrease the severity of stretch marks, promotes internal repair of the skin, increases skin elasticity, encourages the renewal of the skin, supplements skin moisture and improves skin tone by fading the appearance of stretch marks.
Ingredients & How It Works
The ingredients in StretchRid Gel are as follows:
Dimethicone

Cyclomethicone and Dimethiconol

Dimethicone Crosspolymer
Dimethicone is a silicone based polymer that works as an antifoaming agent and as a skin protectant and conditioner. Cyclomethicone and Dimethiconol are a liquid silicone emollient that also acts as a skin conditioner and moisturizer.
The ingredients in StretchRid Cream are as follows:
Aloe Vera

Safflower

Sunflower Seed Oil

Onion Bulb Extract

Immortelle Extract

Jojoba Oil

Emu Oil

Allantoin

Vitamin C+E

Palmarosa
Aloe Vera acts as an anti-inflammatory and antioxidant that can help to soothe and renew skin. Safflower traps moisture in the skin by protecting plasma membranes. Sunflower seed oil acts as a moisturizer and prevents future marks from developing. Onion bulb extract has anti-inflammatory properties which help heal skin. Immortelle extract stimulates the new growth of skin to help fade stretch marks. Vitamin C+E regulates collagen formation to reduce redness and improve skin condition.
Daily Serving
The manufacturer recommends applying the gel by massaging it into the affected areas three times a day. For the cream, you should also apply to the affected areas at least three times a day. This product is meant for external use only, should not be swallowed and you should avoid contact with eyes.
The Cost
The prices for both the cream and the gel are the same. You can purchase one bottle of either for $49.95 each. The manufacturer offers generous bulk purchasing packages as follows: You can buy one Stretchrid cream and one gel together for $36.00 an item, two bottles of each together for $28.00 an item, finally, you can purchase three of each for $24.00 an item.
Guarantee
The manufacturer offers a 60-day money back guarantee so that you can try this product risk-free.
Our Review Summary of StretchRid
This product is one of the better skin treatment products we have seen on the market. StretchRid offers you the option to purchase either a cream or a gel. Individually, they both contain lists of ingredients that have been clinically studied and shown to contain properties that rejuvenate the skin and reduce the appearance of stretch marks. When used together, they offer an all-encompassing skin treatment that has been shown to vastly improve the condition of your skin. The consumer feedback we saw is mostly positive. Consumers reported that this product was able to significantly reduce the appearance of scars that had been on their body for years. Others claimed that they purchased this product to achieve rejuvenated and younger looking skin and that they noticed a difference in a short amount of time.
Well researched reviews, from the experts at Research & You.