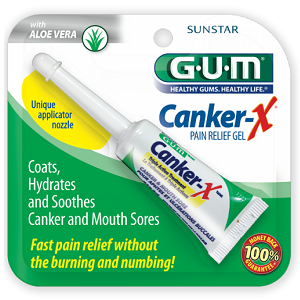 Sunstar Gum Canker-X Pain Relief Gel - Does It Work?-Review
What is Sunstar Gum Canker-X Pain Relief Gel?
This product,  Gum Canker-X Pain Relief Gel claims to help treat canker sores, mouth sores, and smaller cuts and abrasions by offering a protective healing barrier. This treatment is said to offer pain relief and soothe the areas affected, with no accompanying burning or stinging.
Ingredients & How It Works
The ingredients are:
Polyvinylpyrrolidone – This substance creates a micro-thin, invisible, protective seal over the sore.
Sodium hyaluronate – This is used to treat mouth sores or other irritations caused by infection, chemotherapy, or radiation treatments, or dental work.
Aloe vera – This is effective in treating canker sores, cold sores, herpes simplex viruses and lichen planus, a recurring, itchy inflammatory rash or lesion on the skin or in the mouth.
Other ingredients: Water; polyvinylpyrrolidone (pvp); maltodextrin; propylene glycol; peg-40 hydrogenated castor oil; xanthan gum; potassium sorbate; sodium benzoate; flavor; disodium edetate; benzalkonium chloride; saccharin sodium; sodium hyaluronate; glycyrrhetinic acid; aloe vera gel.
Daily Serving
The manufacturer recommends that the gel be applied directly onto the canker sore as often as needed. 1 or 2 drops of gel is enough to cover the mouth ulcer. The gel may be applied with a cotton swab or a clean finger. For 2 minutes after application the sore should not be touched, including with the tongue. This allows the barrier to form. Thereafter, for one hour no food or drink should be taken.
The Cost
A tube of gel of Gum Canker-X Pain Relief Gel is available online on the manufacturer's website, but also through retailers. Online the purchase price is $6.95. No discounts on bulk sales are offered.
Guarantee
The manufacturer offers a 100% money-back guarantee. However, the item must be returned under certain conditions: 1) within 30 days of purchase, 2) only after authorization, 3)  any returns after 30-days are subject to a 15% restocking fee, 4) no returns may be considered for a refund if the product has expired, 5) returns that are refused will be have a shipping and $5.00 handling fee charge to their credit card, 6) the product must be in a re-saleable condition within the original packaging, and 7) the customer is responsible for the shipping fee.
Our Review Summary of Gum Canker-X Pain Relief Gel
The positives of this gel are that it is designed to offer relief for people suffering from canker sores and other mouth sores; it is available without a prescription. In addition, the company offers a 100% money-back guarantee. However, there are a few negatives to this product. Firstly, the money-back policy does not allow a user a fair trial of the product, deciding on its efficacy or otherwise. A handling fee of $5.00 may negate the money-back aspect. It will not be worth returning this product if the shipping fee is deducted from the cost price of $6.95. It is easier to lose the cost price. The company does not offer any discounts on bulk orders. With so many other, similar, products on the market - which offers better options to the shopper, we would suggest to go for one of those instead of this treatment product.
Well researched reviews, from the experts at Research & You.