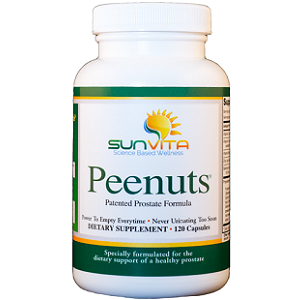 SunVita Nutrition's Peenuts - Does It Work?-Review
What is SunVita Nutrition's Peenuts?
Prostate supplements have flooded the market and sifting through the also rans to find the winners can be a real challenge. SunVita Nutrition's Peenuts sets itself apart, however, by claiming to be researched-based, provide predictable performance in support of prostate health. In addition, Peenuts claims to be used for treating prostatitis. Backing this up are the numerous glowing reviews and endorsements from medical professionals that adorn the website. Further supporting this are the results of several medical studies that detail very thoroughly the benefits of the product.
Ingredients & How it Works
Stinging Nettle
Saw Palmetto
Pygeum Africanum Bark
Bee Pollen
Pumpkin Seeds
Zinc
Vitamin C
Vitamin E
B6
Echinacea
Garlic
Gingko Biloba
Glycine
Alanine
Selenium
Glutamic Acid
The Peenuts formula blends together several antioxidants, anti-inflammatories, immune stimulants and beta-sitosterols. This formula is designed to help improve prostate health. The ingredients have been documented as being very helpful and beneficial towards treating prostatitis and related conditions.
Daily Serving
Though not easily visible on the website, the recommended serving is three capsules a day with meals. In addition, Peenuts has no known side effects.
The Cost
The online website lists the price for Peenuts as being $59.95 per bottle. There are no other purchase options available. You can also buy it on Amazon for the same price.
Guarantee
The company offers what can only be called a weak return/refund policy, accepting only unopened bottles for refund within 30 days of purchase.
Our Review Summary of Peenuts
Peenuts is a product supported by glowing reviews on product the website (but, of course, the lack of a single negative review brings credibility into question) and is supported by notable documented evidence of health benefits.
However, that is not to say that there are no faults. The website, while certainly looking impressive, is very difficult to use. The money-back guarantee exists, but cannot be termed customer-friendly and certainly doesn't allow new users to try this product risk-free. Guarantees are important, as they are always an important factor that customers take into account. In this saturated market, a strong money-back guarantee could make the difference, and it seems like a poor choice for SunVita Nutrition to wimp out on this. Another problem is the price. At $59.95 per bottle, Peenuts is a bit more expensive than the average supplement, and notably more expensive than some. Many customers look for cheaper options, and lower prices often mean netting a bigger profit in the long run. In a competitive market, the better deals tend to win out, but the best SunVita Nutrition's Peenuts does is offer 5% off for those who sign up for an auto-refill program. In conclusion, the website and prices prove to be the biggest handicap to this prostate supplement.
Well researched reviews, from the experts at Research & You.