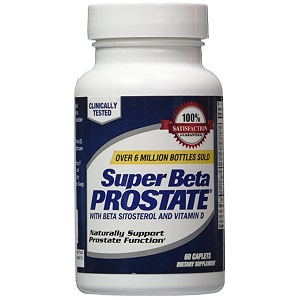 Super Beta Prostate - Does It Work?-Review
What is Super Beta Prostate?
As our body grows older, certain functions start to deteriorate. Both men and women experience this. In men's cases, one of the most common side effects of aging comes in the form of an enlarged prostate. Not only does this condition make urinating difficult, it can also cause constant visits to the bathroom in the middle of the night. It is also more than a mere nuisance as it can open the body to even more serious health concerns such as prostate cancer. What can you do to prevent this health concern? There are several vitamins and minerals you can take in order to dampen the effects of an enlarged prostate. These vitamins and minerals can be found in supplement form as well. This is where prostate support supplements such as Super Beta Prostate come into play.
Super Beta Prostate is designed to help lower the risk of prostate cancer as well as bring relief to symptoms caused by an inflamed prostate. It does so by utilizing the natural healing properties of specific herbal remedies. Not only does Super Beta Prostate promise to help reduce prostate inflammation, it is also designed to help improve prostate health. How effective is this supplement? It's time to find out with our Super Beta Prostate review.
Ingredients & How It Works
Vitamin D - 400 IU
Calcium - 80 mg
Zinc - 15 mg
Selenium - 70 mcg
Copper - 2 mg
Manganese - 2 mg
Chromium - 120 mcg
Molybdenum - 75 mcg
Mixed Phytosterols (derived from plant sterols) - 600 mg
Beta Sitosterol - 250 mg
Boron (amino acid chelate) - 3 mg
Silica - 20 mg
Super Beta Prostate utilizes clinical study levels of beta-sitosterol. Beta-sitosterol is derived from plants, fruits, and vegetables. It offers various health benefits such as lowering cholesterol levels and preventing heart disease. It is also used by men to stifle symptoms of prostate inflammation. It also holds health benefits for women in the form of minimizing symptoms of menopause. However, keep in mind that Super Beta Prostate supplement is designed specifically for men. This supplement should not be used by women or individuals under the age of 18.
Daily Serving
The preferred dosage for Super Beta Prostate is two capsules each day. Each capsule should be taken once in the morning and another one in the evening. It is also best to take this supplement alongside a meal and with plenty of water as well. Results will vary for different individuals but you should expect results within 2 months. Some will experience the benefits within the first month of daily intake while other might experience the benefits after a little longer. The key factor to remember is taking the supplement daily at the recommended dosage.
The Cost
Super Beta Prostate uses an auto-shipping program so keep that in mind. One bottle of Super Beta Prostate contains 60 capsules which is enough for a month's worth of supply. The 60-count bottle is priced at $39.95. The official website does offer a special "free" trial for first-time customers. You will only be charged a shipping fee of $6.99. Once the one-month trial period is over, you will then be charged the regular price of $39.95 plus shipping fees. Be aware of this if you wish to stop the subscription. No other special discount is offered for this supplement.
Guarantee
This product comes with a 30-day money back guarantee. As the first month you are not actually paying for this product, it is unclear exactly how this works.
Our Review Summary of Super Beta Prostate
Super Beta Prostate is quite affordable. Add the 30-day trial period on top of that and it's pretty safe to simply try it out for a while if you're interested to see if it works. However, while the official website promises this supplement is safe, a quick search online will prove otherwise. Side effects are mild with gastrointestinal problems being the most prevalent. We suggest you consult with your doctor first before using this supplement as it appears to not offer the best results for some users.
Well researched reviews, from the experts at Research & You.