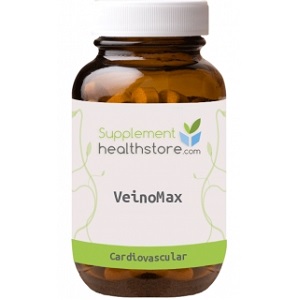 Supplement Health Store VeinoMax - Does It Work?-Review
What is Supplement Health Store VeinoMax?
Supplement Health Store VeinoMax is an all natural product that contains plant extracts that have been found to reduce the appearance of the varicose veins through various mechanisms. It works to get rid of the pain and inflammation associated with varicose veins and support the health of the vascular system so that they are much less likely to occur again. This review looks at how effective the product is at completing these tasks.
Ingredients & How It Works
Troxerutin
Diosmin
Aescin
Quercetin
Vitamin C
Hesperidin
Anthocyanidins
Proanthocyanidins
Vitexin
Many of these ingredients are flavonoids and antioxidants which help to reduce inflammation that occurs in varicose veins. These antioxidants are troxerutin, quercetin, anthocyanins and vitamin C. Antioxidants prevent inflammatory chemicals from reacting with surrounding cells and producing more inflammatory chemicals. Once the cloud of inflammation has cleared in the leg area, healing is significantly increased.
The rest of the ingredients are plant extracts that have experimentally been shown to strengthen the tone of blood vessels and constrict small blood vessels so that fluid doesn't escape from them into the surrounding tissue as is often the case in varicose veins.
Daily Serving
A total of six capsules must be taken each day by taking two capsules three times a day. With each serving, the capsules should be taken with a meal and a full glass of water. There is one ingredient that does seem to be a slightly lower doses than it should which is hesperidin. This daily dose provides 64 mg where is it should be around 300 mg.
The Cost
The cost of 180 capsules which equates to about 30 days supply is $39. This price does not include shipping or taxes and there are no discounts offered for bulk orders. The manufacturer does have a subscription service which does have various special offers and there is free delivery for purchases over $70.
Guarantee
The manufacturer states that customers have only 7 days from the date of delivery to return their unwanted products. These products must be returned unopened in their sealed packaging for the customers to receive a refund. This, of course, cannot be considered a guarantee because it does not protect the customer if the results are unsatisfactory. The second they open their product they lose their refund. The returns policy for this product doesn't greatly inspire confidence because they are unwilling to face the consequences of their product not working.
Our Review Summary Of Supplement Health Store VeinoMax
There seems to be quite a lot of research supporting the majority of the active ingredients in this product. This product is also offered at a fairly reasonable price.
Unfortunately, we do have some doubts about the effectiveness of this product for two reasons. The first reason is that there is quite a low dose of one of the active ingredients compared to similar natural products that had been proven effective and the manufacturer does not offer a guarantee which doesn't inspire confidence in the effectiveness of the product because the manufacturer themselves does not show any such assurance. 
Well researched reviews, from the experts at Research & You.