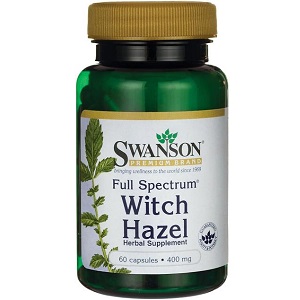 Swanson Full Spectrum Witch Hazel - Does It Work?-Review
What is Swanson Full Spectrum Witch Hazel?
Today we will review Swanson Full Spectrum Witch Hazel. The main active ingredient found in this product is witch hazel. This ingredient is seen as a traditionally used cleansing herb. This dietary supplement is used to help strengthen blood vessels and also reduce the symptoms of varicose veins. This ingredient is also claimed to help reduce the swelling and pain that occurs in these situations. Read out review below, to learn more about Swanson Full Spectrum Witch Hazel and to see if this is an effective product for the treatment of varicose veins.
Ingredients & How It Works
There is only one main active ingredient found in this product, namely witch hazel. Other ingredients include gelatin and rice flour. The product may contain magnesium stearate and silica. The manufacturer has used this herb as it is claimed to be an effective aid in the support of varicose veins and also helps to reduce the symptoms thereof.
The problem we see here is that the product only contains one of the essential ingredients needed to make the product effective. To ensure symptoms are treated and the problem is prevented, there needs to be a combination of certain ingredients. These ingredients include horse chestnut, rutin, butcher's broom, and hesperidin.
Daily Serving
A user is suggested to take 1 capsule per day with water. These instructions do not provide users with information concerning the time of day one should take it. It also lacks to allow customers to know if the capsules should be taken with a meal or on an empty stomach. Furthermore, one capsule only provides the user with 400 mg witch hazel, which is much too little to be effective. Without clear instructions, a user may use the product incorrectly and will leave them with negative results.
The Cost
A bottle of 60 capsules can be purchased online from the manufacturer's website for $6.49. It is however, currently on sale for $4.19. This product is very cheap in comparison with other varicose vein products. This could indicate that the product it ineffective due to low quality ingredients. The manufacturer offers customers a 10% discount if their purchase is over $50.
Guarantee
Customers who are not satisfied with the results of the product may return the unused portion within 30-days of purchase for a full refund. To return the product, follow the steps provided on the manufacturer's website.
Our Review Summary Of Swanson Full Spectrum Witch Hazel
There are a few things we like about Swanson Full Spectrum Witch Hazel. The product comes in easy to swallow capsules and the manufacturer offers a 30-day money-back guarantee on used products.
Unfortunately, there are many more negative aspects about the product that need to be addressed. Firstly, the product does not provide the user with a balanced combination of effective ingredients. Furthermore, the only active ingredient found in the product is of too low concentration to be able to address the problem. Another concern is that the manufacturer is selling the product at such a low price and still offers a discount. This could indicate that the quality of ingredients is very bad. Finally, the manufacturer does not provide clear instructions on how and when to take the capsule. These reasons lead us to believe that the product is ineffective and that the ingredients used are of low quality. We do not recommend Swanson Full Spectrum Witch Hazel.
Well researched reviews, from the experts at Research & You.