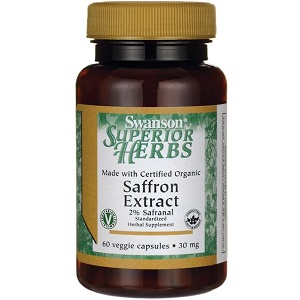 Swanson Superior Herbs Saffron Extract 2% Safranal - Does It Work?-Review
What is Swanson's Superior Herbs Saffron Extract 2% Safranal?
This is a review of the dietary supplement Saffron Extract 2% Safranal, by Swanson Superior Herbs. The makers of this supplement claim that their product uses certified organic saffron extract, containing 2% safranal. They also state that the goal of this supplement is to promote mood management.
Ingredients & How It Works
The only active ingredient in this supplement is 30 mg saffron extract, of which a minimum of 2% is safranal. Saffron is used for several health issues. It is acclaimed as a mood booster; it also reduces anxiety, and helps with weight loss by controlling emotional eating.  The inactive ingredients are organic oat bran, pullulan, and maltodextrin.
Daily Serving
The recommended dose, according to the manufacturer, is one to two capsules daily, prior to eating food. However, this supplement must not be taken by pregnant women or nursing mothers. In addition, those on prescription medication should consult a doctor before taking this product.
The Cost
A 60-capsule bottle of Saffron Extract by Swanson Superior Herbs is available online on the manufacturer's website for $16.69, excluding the shipping fee. The company does not offer any package discounts, but offers 10% off and free shipping if buying a second purchase from them. Still, third-party sites such as Amazon also stock this product. Saffron Extract may be used as a slimming aid or as an anti-depressant pill instead of using St John's Wort. Prices on third-party sites may differ from that on Swanson Superior Herbs' site.
Guarantee
The manufacturer does offer a guarantee. There is a one-year limit on returning the product for a refund. Customers must provide reasons for such a return. All returns valued at $500.00 or more attract a restocking fee. Therefore, depending on how much you are returning, you could lose some of your investment to the restocking fee.
Our Review Summary Of Saffron Extract
Saffron Extract, by Swanson Superior Herbs, comes with a good guarantee of a one-year time limit for returning unwanted items. The ingredients are all natural. Capsules are made from vegetable material, making them suitable for vegans and vegetarians. In addition, this product contains certified organic saffron extract, which implies that it is free from pesticides. Nevertheless, the capsules contain fillers, such as oat bran. This is a fairly expensive supplement at $16.69. Per milligram, this saffron product does not compare favourably with other saffron dietary supplements on the market. It may therefore be better to consider other saffron supplements that also provide a good guarantee, are priced fairly, and are of higher quality: this could be more effective to your health.
Well researched reviews, from the experts at Research & You.