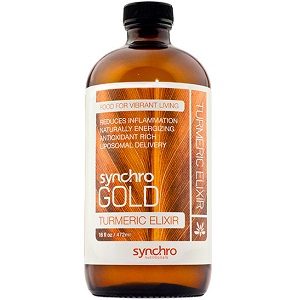 Synchro Gold Turmeric Elixir - Does it Work?-Review
What is Synchro Gold Turmeric Elixir?
In this review, we will discuss the product called Synchro Gold Turmeric Elixir to see whether this product is worth buying or not.
Synchro Gold Turmeric Elixir is a 100% plant-based supplement that claims to offer many health benefits which include fighting inflammation, increasing metabolic rate, increasing fat metabolism, providing the body with antioxidants, and promoting better brain function. The product also claims to provide higher levels of turmeric root extract compared to other related products. The product's website also claims that it contains a specialized formula that makes the product easier to absorb during digestion.
Ingredients & How it Works
This product contains two main ingredients:
Organic Turmeric Root Extract ( Supercritical CO2 Extraction) - 500mg
Organic Black Pepper Root Extract (Standardized to 95% Piperine) - 10mg
The main ingredient, organic turmeric root extract has been used since ancient times to cure different kinds of diseases. Today, the use of turmeric root extract has been associated with a number of health benefits which include providing the body with healthy antioxidants and, therefore, reducing the risk of developing certain kinds of inflammation or diseases and helping to fight against free radicals attacking the cells. The black organic pepper, on the other hand, is an organic compound that allows the turmeric root extract to be absorbed in the body without losing so much of its potency. Other ingredients include:
Organic Ginger (CO2 Extraction)
Sun Flower Lecithin
Reverse- Osmosis Filtered Water
Daily Serving
This product comes in the form of a liquid. According to the product's website, an individual should take 1-2 servings per day. Make sure that the product is shaken well before use. Mix 1oz of the product with 4-6oz of a warm, non-dairy milk product and a little bit of honey. You can also take the product on its own as a 1 oz shot, but you will want to consider the strong taste this product has which may make this option not very pleasant.
The Cost
You can buy Synchro Gold Turmeric Elixir online from the manufacturer's website for $28.97 per bottle which should last for around 2 weeks. You can also purchase a one-month supply (two bottles) for $54.97 and a two-month supply (4 bottles) for $103.97; these purchases will help you save 5% and 10% respectively.
Guarantee
Unsatisfied customers may return the product for store credit within 30 days of purchase. Take note that the company will only accept unopened bottles which makes it impossible for customers to try the product. So you will only really benefit from this policy if you bought in bulk. It is unfortunate that you can only return the product for store credit has the store does not sell very many products.
Our Review Summary of Synchro Gold Turmeric Elixir
The product seems to contain ingredients that have the potential to reduce inflammation in the body. The ingredients are also made from 100% plant extracts which makes it a suitable choice to those who are on a vegetarian diet. Be that as it may, the product seems to be expensive considering that one bottle will only last for 2 weeks. Some people who have sensitive taste buds might also have a hard time taking this product because of its taste. It is also disappointing that if you are not happy with the product, you will only be refunded in store credit as the manufacturer does not sell many products.
Well researched reviews, from the experts at Research & You.