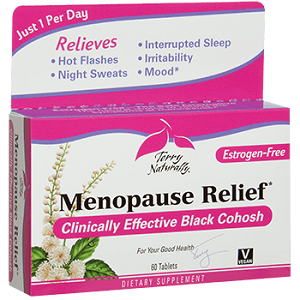 Terry Naturally Menopause Relief - Does it Work?-Review
What is Terry Naturally Menopause Relief?
Enduring menopause is something that all women must endure as a part of life. It doesn't happen to everybody at the same age, but it will sooner or later. Menopause can be very taxing and uncomfortable resulting in fatigue, sweating and restless nights being only some of the problems.
Terry Naturally Menopause Relief could be a possible solution to bring back some comfort into your life and help combat menopause symptoms. With an all-natural estrogen-free relief formula, it aims to complement a healthy balanced lifestyle. Read our Terry Naturally Menopause Relief review to learn more about the facts of this product.
Ingredients & How It Works
Each tablet contains 13g of Black Cohosh. Black Cohosh extract has been used for decades in treating menstrual and menopausal symptoms to great effect. People suffering from menopause can take Black Cohosh and expect less hot flushes caused by a rise in body temperature at unexpected times. This should then result in feeling less stress and fatigue.
There is a relatively long list of inactive ingredients in this product. However, it contains no animal products so it is safe for vegetarian diets. It also does not contain any wheat or artificial additives or preservatives. This product is not designed for pregnant or nursing women.
Daily Serving
It is recommended to take one tablet a day. It is not stated when the best time is to take the tablet and if it should be taken with food or not. The manufacturer states that you need to use the product continuously for results.
It is apparently really good for people to take who are not doing hormone replacement therapy as black cohosh can have the same effects as estrogen.
The Cost
One bottle of Terry Naturally Menopause Relief comes with 60 tablets. This gives you a 2-month supply of Black Cohosh. You can buy this product directly from the manufacturer for $14.95. It does not seem possible to buy in bulk. As you have to use this product continuously, you will have to buy the product before your 2-month supply runs out each time.
Guarantee
Terry Naturally Vitamins offers a 90-day money back guarantee on their products. If you wish to return the product, first you need to contact customer service to get a Return Authorization Number. Then when you have returned the product, you will be refunded the cost of the product, less shipping fees. It is not stated in what condition the products need to be to eligible for a refund.
Our Review Summary of Terry Naturally Menopause Relief
Fighting menopause can possibly be done with Terry Naturally Menopause Relief as it contains Black Cohosh extract. We do believe one would need other active ingredients to fully benefit from a dosage of Black Cohosh, though, as well as being able to completely manage all menopause symptoms on a wholistic level. Black Cohosh also comes with some serious side effects which the website does not mention what to look out for, such as signs your liver is being affected.
Simple products often work well but one should address other options. Supplements that can help your menopause by providing you with a good night's rest, less anxiety and a regulated body temperature all in one product is something we would recommend.
Well researched reviews, from the experts at Research & You.