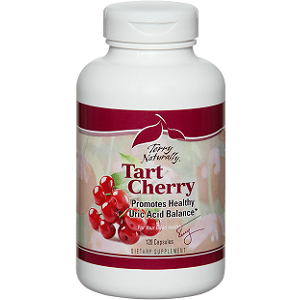 Terry Naturally Tart Cherry - Does It Work?-Review
What is Terry Naturally Tart Cherry?
This is a review of the dietary supplement Tart Cherry: This product is claimed by its manufacturer, Terry Naturally, to be a source of anthocyanins, which are antioxidants. These elements enhance the body's resistance to oxidative stress, while regulating uric acid, reducing the risk of developing a gout flare-up. Read our review for more details.
Ingredients & How It Works
Two (2) capsules contain 1500 mg of tart cherry ((Prunus cerasus) fruit powder standardized to contain > 0.5% anthocyanins (freeze-dried, not heated). Other ingredients: hydroxypropyl methylcellulose (vegetable cellulose capsules), silica, microcrystalline cellulose, vegetable source magnesium stearate. The capsules are free from sugar, salt, yeast, wheat, gluten, corn, soy, dairy products, artificial coloring, artificial flavoring and artificial preservatives. Tart cherry helps to manage uric acid levels in the blood, preventing the build-up of crystals in the joints. It also helps to reduce inflammation and the pain associated with gout.
Daily Serving
The manufacturer's suggestion is to take one (1) or two (2) capsules daily. No indication is given for which people one capsule will be better than two. Nor does the manufacturer state whether capsules should be taken with or without food. Either way, according to the ingredients, two capsules will provide 1500 mg tart cherry. This is the optimal dosage for treating gout, according to scientific studies on relieving the symptoms associated with a gout attack, and preventing this condition.
The Cost
A 120-capsule bottle is available on the manufacturer's website at $35.95. No discounts or package deals are offered.
Guarantee
This dietary supplement is backed by a full money-back guarantee. A consumer may try it; if found unsuitable, the customer may return it for a refund (excluding shipping and return free). However, the company does not give a time limit for returns, nor the fees on the return of items.
Our Review Summary Of Tart Cherry
This gout treatment contains 1500 mg of tart cherry, which is the optimal daily dosage. More so, the reviews (especially on Amazon) are above average. There is a full money-back guarantee on this product. Therefore this dietary supplement appears a useful product. However, our research found certain concerns. Firstly, there are only three reviews on Amazon. More reviews would give a better assessment of the product. Secondly, the suggestion that to take one capsule would imply a under dose of tart cherry. This may prove counterproductive as you would like to receive the optimal dose. Thirdly, there is no discount or package deal available. This would have made this dietary supplement more economical over the long run. Lastly, dosage instructions are vague. Buyers are left in the dark on how to use these supplements for optimal health benefits. However, not only are dosage instructions unclear: the guarantee itself is vague. No mention is made of how long the customer has before unwanted items must be returned for the refund to apply. More so, there are other products on the market that are more effective and offer better value.
Well researched reviews, from the experts at Research & You.