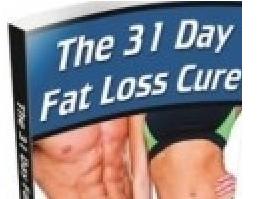 The 31 Day Fat Loss Cure-Review
The 31 Day fat Loss Cure ebook sounds attractive to us as most people think a month isn't too long a period to have to adhere religiously to a program. The word "cure" is not a misnomer when you consider that while being fat is not a disease, it can lead to other disorders. The 31 Day Fat Loss Cure program was devised by an ex-army man who, while training, accidentally discovered a unique way to lose weight. But we want to investigate whether the product delivers on its promise and works for everyone.
About the Product
This ebook mainly focuses on informing the reader how fat loss programs have largely failed to deliver, whether they are detox or fad diets, gym memberships or exercise programs. Ironically, the author while imparting this knowledge expects the reader to accept that his method actually works.
How it Works?
The author of the ebook, now 40, claims to be in the best state of fitness he has ever enjoyed and displays the results of his system by way of "before" and "after" photos the author has taken of himself. Sporting six pack abs -- suggested to have been acquired through the program -- the author claims that expensive equipment and gym memberships are not needed to accomplish similar results. The ex-army man claims that he stumbled upon these secrets within a week of being in the army and discounts the need for cardio workouts to lose weight. He also argues against eating whole-grain meals -- advocated by many health experts -- that he claims are harmful to the body. He uses the example of extremely fit cavemen who didn't eat whole-grain meals owing to not having the technology needed to grow them. The above argument seems weak when you consider that man survived on wild fruits and vegetables for thousands of years before he learned to hunt for meat. Applying the author's logic, man should have continued with his diet of wild fruits and vegetables. The product attracts hype owing to the nature of the fat-loss industry. While it's hard to establish whether the product works, reviews are mixed, varying from positive shills to mockingly denunciatory put downs.
How Much it Costs?
The 31 Day Fat Loss Cure program costs $80 that you will need to pay in two installments. A trial can be had for $5 and you will need to pay the remainder of $75, in case you decide to go ahead with the program. If you decide not to go ahead, you must make sure to go online and cancel the order so as not to get billed for the remainder. Clickbank ensures that you can get your refund in case you decide to discontinue at a later date.
How You Make it Work?
This kind of system has two components to it, in the form of (1) knowledge of what needs to be done, and (2) the will to do it. The second part is the difficult part and that is entirely dependent on you. Knowing what to eat and what not to eat alone is not a guarantee that you will eat the right food. Thus, for the system to work, you have to religiously apply what it prescribes, in order to be able to see any results.
Final Review
Rather than reveal any "secrets", the author gives the reader a basic refresher on some "home truths". This is useful when the average person has to wade through a surfeit of information and has difficulty in deciding what to accept and what not to. On the face of it, the 31 Day Fat Loss Cure appears to make a sincere attempt to help the reader with useful tips. The explanations are lucid and backed by apparent conviction. The fact that the author is not trying to peddle some device or pre-packaged meal only adds to his credibility as he goes about debunking myths about weight loss techniques. Often, we are faced with contradictory information that prevents us from adhering to a single program long enough to prove whether it works or not. The best course of action would be to stick with a fitness guru whose principles you fundamentally agree with, rather than migrate from one program to another, to no avail. Do not look for a single window solution to your weight loss objective, and if you decide to go with the 31 Day Fat Loss Cure, internalize the information that can help add to your long term strategy, if nothing else. If you aim for a holistic solution and do not rely on a single guru's advice, there's a better chance that you will gain from such a program and not get confused with contradictions.
Well researched reviews, from the experts at Research & You.