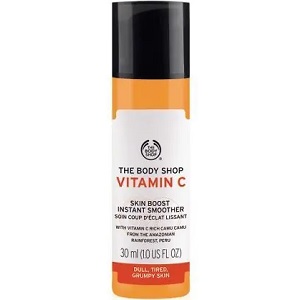 The Body Shop Vitamin C Skin Boost - Does It Work?-Review
What is The Body Shop Vitamin C Skin Boost
The Body Shop's Vitamin C Skin Boost product has been formulated to help combat dull, tired complexions, enhance natural radiance, and refresh and smooth your skin. It does not make any claims to dealing with blemishes such as dark spots, and it does not protect your skin from UV rays.
Ingredients & How It Works
Cyclopentasiloxane
Dimethicone
Cyclohexasiloxane
Myrciaria Dubia Fruit Extract
Vitamin C (ascorbic acid)
All four of the active ingredients are skin conditioning agents that help to improve skin texture by trapping moisture, giving the skin a silky, slippery feeling, while simultaneously helping to provide a protective barrier from the elements. The first three - Cyclopentasiloxane, Dimethicone and Cyclohexasiloxane are all silicone-based compounds that are used extensively in moisturizers and facial treatments. It is worth noting that Environment Canada has warned that cylcopentasiloxane — also known as D5 — is toxic and may cause uterine tumors and harm to the reproductive and immune systems, However, as far as we could acertain, there is no restriction on the use of this ingredient in cosmetics. There are also concerns that Dimethicone may lead to breakouts and blackheads in those users who are prone to acne, or who have oily skin.
Instructions
The instructions are pretty straightforward. You simply have to cleanse your face and neck once a day, moisturize and then use your fingertips to rub in the product. You can choose to follow this routine in the morning or the evening.
Cost
A 35ml container costs $35 when you buy it directly from the manufacturer. A 100ml container will set you back $116 – and there is free delivery on all orders for over $75.
Guarantee
The Body Shop states that they would like you to be completely happy with your purchase. They ask you to contact them within 30 days of purchase if you are disappointed in any way. However, there we were unable to find any indication of what kind of remedial action would be taken to address your unhappiness – a refund? An offer of a replacement product? An apology? It could be any or all of these.
Our Review Summary Of The Body Shop Vitamin C Skin Boost
The Body Shop's Vitamin C Skin boost contains 4 ingredients that are widely associated with skin conditioning, With this in mind, there is every reason to believe that it will make the skin softer and smoother to the touch.
However, some of those ingredients may be toxic.
It is also worth noting that while it contains 4 active skin conditioning ingredients, the product also contains no fewer than 7 fragrance ingredients. So it will probably smell nice, but what will it do for your skin – particularly as at least one of the ingredients is regarded by some as toxic.
Well researched reviews, from the experts at Research & You.