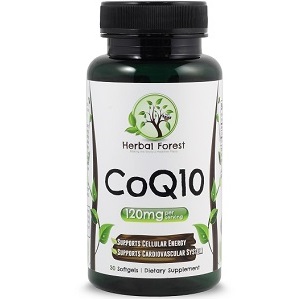 The Herbal Forest CoQ10 - Does It Work?-Review
What Is Herbal Forest CoQ10?
COQ10, despite being relatively unknown to the public say in comparison to the likes of vitamin A, plays one of the most vital, far-reaching roles that it is possible for any single nutrient to play. As a source of energy, is present in all cells in the body but the highest concentrations are found in the liver and heart. It is no coincidence that this is so because COQ10 is particularly sought out by the medical profession for being an agent that fiercely fights oxidative stress. This means it combats the stress of aging and degeneration that happens naturally over time, and also due to unhealthy diets or lifestyle factors. COQ10 is subsequently enlisted in the fight against heart disease, high blood pressure, diabetes, Parkinson's and Alzheimer's to name just a few major health challenges. It also speeds up muscle recovery time.
Herbal Forest says one of the major plus points about its brand of CoQ10 is that it is dissolved in soybean oil before encapsulation to increase intestinal absorption. In other words, the manufacturer has paid particular attention to bioavailability. Let's unpack this further in this review and analyze the formula against what the leading medics say is best.
Ingredients & How It Works
Coenzyme Q10 (Ubiquinone)
Soybean oil
Gelatin
Beeswax
Purified water
Titanium oxide
It is ubiquinol that is the antioxidant or protective variant of CoQ10 - COQ10 being found in two forms, this and the ubiquinone that we have here. Ubiquinone must first be broken down into ubiquinol in the body in order to exert its antioxidant effects, but this isn't all doom and gloom as it has to happen anyway, and happens naturally. However, some compound is lost in the process, unless you make it readily absorbable by the body.
The manufacturer says it is using vegetable (soybean) oil to do just that, and that this has made it three times more bioavailable. However, no third-party verification regarding this triple potency is provided. Medical experts also say that you can only be assured of bioavailability if BioPerine as an ingredient is present, which is not the case here. The other issue regarding the soybean oil is that of course, it means that soy as an allergen is present. In fact, it is only one of a number of fillers and binders in this formula, which medical science teaches is not an optimal way to deliver COQ10 to the body. 
Daily Serving
One serving equals one capsule, and there is 120mg in each capsule. The manufacturer says the dosage is one capsule per day with meals, and that you should not exceed the recommended dose.
However, this dosage is too low. You need about 250mg per day in order for the COQ10 to be of any effect. Too much lower, it has scientifically been proven, is ineffective. Too much higher, and you could be endangering your health.
Pregnant or nursing mothers, children under 18, and individuals with a known medical condition such as heart problems and low blood pressure - especially in the event that these are already being medicated - should consult a physician before use. This product is manufactured and packaged in a facility which may also process milk, soy, wheat, egg, peanuts, tree nuts, fish and crustacean shellfish. So, if you are allergic to any of these, do not take the capsules.
The Cost
You'll pay $14.75 on the product website for one bottle of 30 capsules. This is a one-month supply. There don't appear to be discount incentives.
Guarantee
We did not come across any stated guarantee or returns policy while doing research on this brand of COQ10. It is always in the consumer's best interest that a refund or guarantee policy exists. The more transparent and generous it is, the greater the supplement maker's confidence in what it has brought to market. Supplement guarantees are especially critical as no FDA approval is required to bring supplements to market unless it contains a new ingredient.
Our Review Summary Of Herbal Forest CoQ10 mg
The low price point is attractive as is the soybean formula which 'aids' bioavailability. High blood pressure, angina, and arrhythmia can be improved but it also assists with circulation and slows down brain degeneration considerably.
The low price point becomes far less attractive when you realize that a 30-count bottle will only last 2 weeks if you take 2 capsules a day and not one (in order to get your 250 mg COQ10 intake per day). Next, we have to ask: how are any of the claims regarding bioavailability backed up by the manufacturer? Far as we can tell, they aren't. That is not to say they are not true, but third-party testing is best to dispel any doubts. And, as we've pointed out, the sure bioavailability agent, Bioperine, is absent.
The other big issue, of course, is that without a guarantee policy you are left stranded in the unlikely event that you feel this supplement is doing nothing for you or want to change to one that is more in line with medical requirements. It is also unclear where the manufacturer is based - we found no evidence of GMP certification or an equivalent. It is best from a health and safety point of view that a manufacturer is GMP certified and have safeguards in place for the consumer, such as returns and guarantee policies. The latter in particular speaks volumes about the integrity and veracity with which a supplement maker is prepared to stand behind its own claims.
Well researched reviews, from the experts at Research & You.