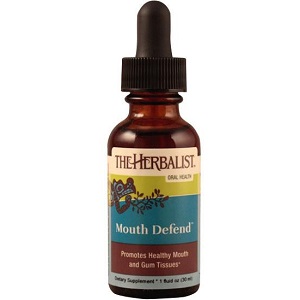 The Herbalist Mouth Defend - Does It Work?-Review
What is The Herbalist Mouth Defend?
Also referred to as aphthous ulcers, canker sores are the small lesions that manifest on the soft tissue of the mouth, at the gums. These sores are not contagious and don't develop on the lips but can be very painful and make it difficult to talk and eat. In this review, we will be discussing Herbalist Mouth Defend, an oral health dietary supplement that claims to promote a healthy mouth and gum tissue.
Ingredients & How It Works
Echinacea root (E. angustifolia)
Golden Seal root (Hydrastis Canadensis)
Myrrh gum (Commiphora molmol)
Propolis (Resina propoli)
Spilanthes herb (Spilanthes acemelia)
Yerba Mansa root (Anemopsis spp.)
Pure grain alcohol
Distilled water
The ingredients in this product all seem to be naturally derived from plant sources, although it is unclear as to how much of each ingredient is present in this supplement. Echinacea root is used as an immune system booster, Golden Seal root is a herb that is used to combat infection (although it is believed that the important nutrients in this herb do not properly absorb when taken orally) and myrrh gum has been applied to assist in bringing down swelling of the gums. Other ingredients such as spilanthes herb, propolis, and grain alcohol have disinfectant properties.
Daily Serving
According to the available product information it is suggested that this product can be taken in two different ways. Firstly, it can be taken as a restorative tonic, in a dose of 30 to 60 drops three times a day. Secondly, it can be taken as a preventative supplement, in a dose of 30 drops in liquid three times daily.
It should also be noted that Mouth Defend should not be taken while pregnant or while breastfeeding. If you suffer from any illness or if you are taking prescription medication, you should consult a doctor before use.
The Cost
This mouth health supplement is available for purchase directly from the manufacturer's website in a variety of prices and quantities. You will pay $15 for 1 oz. , $28 for 2 oz., $52 for 4 oz. and $97 for 8 oz. No special offers on purchases apply.
Guarantee
We were able to locate a limited returns policy for this product. The manufacturer will accept returns, in the event that they made an error. As a consumer, you have to inform them of this within 7 days of receiving the product. However, if the error was not on their side a 20% restocking fee will apply. Unfortunately, there were no additional terms or conditions concerning this guarantee.
Our Review Summary Of Mouth Defend
To conclude our review for Mouth Defend, we found that we liked that the ingredients included in this product seemed natural. We also appreciated that there were several purchasing options available to consumers. However, as the amounts of ingredients were not stipulated we are uncertain of its effectiveness. The fact that studies showed that Golden Seal root was not properly absorbed orally also raised some questions. Lastly, we thought that the returns policy was quite vague and did not offer much information.  
Well researched reviews, from the experts at Research & You.