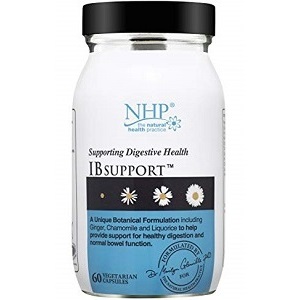 The Natural Health Practice IB Support - Does it Work?-Review
What is The Natural Health Practice IB Support Review
In this review of The Natural Health Practice IB Support Review, we look into the benefits of using this product as a dietary supplement for the treatment of IBS (Irritable Bowel Syndrome) and the side effects associated with it. All the ingredients of the blend are derived from herbs, and they offer a natural solution to all of the complications, ranging from bloating to nausea. Read the rest of this review to find out if the manufacturer lives up to all the claims it has made.
These are the facts:
Ingredients & How it Works
Primary Ingredients:
Peppermint Oil
Marshmallow Root
Slippery Elm Bark
Turmeric Powder
Ginger Root
Fennel
Chamomile Herb
Licorice Root
Artichoke Leaf
Slippery Elm Bark, Turmeric Powder, and Liquorice Root increase bowel movements. Ginger Root and Chamomile Herb relieve nausea and intestinal cramps while Fennel and Artichoke leaf prevents bloating. Peppermint Oil promotes gut health with its antibacterial properties and Marshmallow Root reduces inflammation.

We see that the blend could be strengthened with Cumin and Aloe Vera, and sufficient absorption could be increased by adding Bioperine to the formulation.
Secondary Ingredients:
Hydroxypropyl Methylcellulose
This is basically an eco-friendly capsule coating.
Daily Serving
The manufacturer recommends that a maximum dosage of 2 capsules daily should be taken with a glass of water, half an hour prior to eating a meal, or as advised by a qualified medical practitioner.

A warning is given to women who are trying to conceive, pregnant women, as well as lactating women. This product is not intended for the use of children.
The Cost
This product is sold online for $31.50 for a container of 60 capsules. The product is available for direct purchase through the manufacturer's website. All orders which are made over $98.00 will be shipped for free as long as they are made within the United Kingdom. We were unable to find any bulk purchase discounts, this is concerning as it may not be very cost effective in the long run for the majority of users considering that you only get a month worth of capsules.
Guarantee
The manufacturer offers a refund (which excludes shipping costs) for products which are returned unspoiled, unopened and within a window period of 14 days. No further information is supplied on the manufacturer's website. This guarantee is weaker in comparison to other leading brands and does not give us much confidence in the effectiveness of the formula.
Our Review Summary of The Natural Health Practice IB Support Review
In this review of The Natural Health Practice IB Support, we see that this product is vegetarian and vegan-friendly. We also like that there are some positive customer reviews. We do, however, need to address the extremely short guarantee period, as well as the lack of other essential ingredients (Cumin, Aloe Vera, and Bioperine) in the blend. We also rate that the cost is rather high for such a product. After our research, we conclude that we would not recommend this product for the treatment of Irritable Bowel Syndrome.
Well researched reviews, from the experts at Research & You.