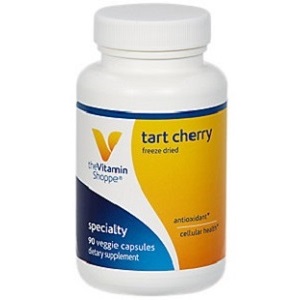 The Vitamin Shoppe Tart Cherry Extract - Does It Work?-Review
What is The Vitamin Shoppe Tart Cherry Extract?
Read our full review on this health product Tart Cherry Extract, manufactured by The Vitamin Shoppe. This dietary supplement is claimed to be a good source of antioxidants which assist in boosting the immune system. This tart cherry dietary supplement reduces the likelihood of a gout flare-up: it blocks the production of protein which leads to inflammation. In additional, it is claimed that this supplement works on the key causes of gout. It reduces uric acid levels, thereby preventing the crystallization of uric acid in the joints.
Ingredients & How It Works
Three (3) capsules provide:
Cherrypure - freeze dried tart cherry (prunus cerasus) skin concentrate (1500 mg).
Other inactive ingredients: vegetable cellulose, microcrystalline cellulose, magnesium stearate, and silica.
These ingredients help to lower uric acid product, which assist to reduce gout attack and it helps to decrease pain, inflammation, and swelling and to increase mobility.
Daily Serving
The manufacturer's recommendation is three (3) capsules each day with a meal. This dosage will provide 1500 mg of tart cherry. This is the amount found in clinical studies to be effective in reduction of pain linked to gout. Tart cherry is able to decrease uric acid levels, preventing further attacks of gout.
The Cost
A 90-capsule bottle is available online at the purchase price of $16.99. This is discounted from the original price of $19.99.
Guarantee
The consumer is protected by the manufacturer when purchasing from this company. However, the company has placed some terms and conditions on the returns. 1) If the bottle is returned unopened with a receipt within 30 days, the consumer will receive a full refund. 2) If the bottle is returned opened with a receipt within 30 days, the consumer will receive an in-store merchandise credit. 3) If the bottle is returned unopened or opened, but without a receipt, within 30-days, a store credit for the lowest selling price within the past 30 days will be given. Only if the customer's purchase history may be found on the company's system, will options 1 or 2 be applicable.
Our Review Summary Of Tart Cherry Extract
Tart Cherry Extract appears a useful gout treatment, particularly since it contains 1500 mg of tart cherry. This amount has been found by scientific studies to be the optimal quantity of this substance, offering health benefits for gout sufferers. Another good point on this dietary supplement product is that it comes with a money-back guarantee. There are, however, certain concerns with this dietary supplement. The guarantee itself allows only 30 days in which to return the goods. Should the bottle be opened, customers will receive an in-store credit (however, no mention is made for how long that credit will remain valid). Nonetheless, although this dietary supplement contains the optimal levels of tart cherry and the capsule is vegetarian friendly, the formula lacks many of the other key ingredients found to treat gout effectively. These include folic acid, artichoke, garlic, yucca, milk thistle, turmeric, dandelion and rutin.
Well researched reviews, from the experts at Research & You.