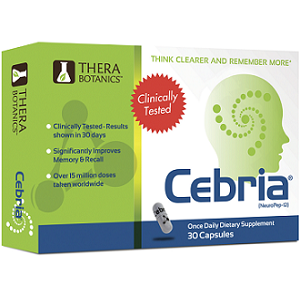 Thera Botanics Cebria - Does It Work?-Review
What is Thera Botanics Cebria?
The following review is for a product called Cebria from Thera Botanics. Cebria is a natural dietary supplement that is meant to protect and restore short-term memory and support your brain functioning. This product claims to help you think faster and remember more. It has been scientifically proven to improve memory within a month. The manufacturer claims that the formula contained in Cebria, which is called Neuro Pep helps improve the chemical processes in the brain which helps increase the creation of neuropeptides.
Ingredients & How It Works
The list of  ingredients in Cebria are as follows:
Amino Acids
Neuro Pep 12 proprietary blend
Lactose
Serine
Lysine
Arginine
Leucine
Glutamic Acid
Each ingredient provides the brain with benefits that make it possible for the brain to function at its best even in old age, which is exactly what this product is intended to do.
Daily Serving
One capsule every morning should be taken with water or other forms of liquids. It is not indicated if it should be taken before, with or after meals. You are advised to seek your medical practitioner's guidance if you are breastfeeding, pregnant or have a serious medical condition.
People who are lactose intolerant should not take this supplement, as it contains a small amount of lactose.
The Cost
The manufacturer offers a free trial of two bottles of the product for 30 days, after which you will be charged a price of $39.95 per box if you decide to continue with the product. They will then continue to send you two boxes every 60 days at a price of $79.90 deducted from your credit card. You will also be charged an amount of $9.95 for shipping and handling each time they send you the supply. In addition to that, you receive free gifts that are worth $60.00 with your first purchase.
You can also purchase Cebria from third-party retailers at a cost of $67.95 per bottle or $179.85 for three bottles. There are no specials or discounts offered by third-party retailers.
Guarantee
All orders made from the manufacturer's website come with a 30-day money back guarantee. You are advised to contact their customer service center for any queries and problems relating to their products.
Our Review Summary Of Thera Botanics Cebria
Thera Botanics Cebria contains ingredients that are capable of providing the brain with the support that it needs to function at its best. Thera Botanics Cebria specifically helps improve the chemical processes in the brain which helps increase the creation of neuropeptides. Judging from the reviews we read on the third-party retailer's website, this product has been tried and used by many customers. Their 30-day free trial seems to work in increasing the number of consumers who buy Cebria. We were somewhat shocked to read about the experiences of some of the consumers who used the product. Some did not see results at all, some found it addictive, while others felt sick from using it. With that said, people are different, and therefore respond differently to all kinds of supplements, hence there were some consumers that found the product effective.
Some customers experienced difficulties when they tried to cancel the subscription, with money still being deducted from their credit cards even though they asked for cancellation.
It is very easy to be attracted by the risk-free trial since it offers consumers an opportunity to try the product without paying. Our worry, however, is that the company might continue deducting money from your credit card even when you have canceled the subscription.
Cebria contains lactose, which we feel it is unnecessary because those who are lactose intolerant are excluded from using the product. There are many brain boosters on the market that do not have lactose and they work very well. It is better to go for a product that is lactose-free, free from obligations and uncertainty, and a product that has a lot of positive consumer reviews, as these can give you the confidence to try the product.
Well researched reviews, from the experts at Research & You.