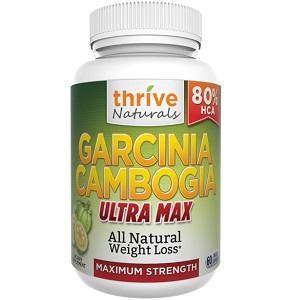 Thrive Naturals' Garcinia Cambogia Ultra Max - Does It Work?-Review
This is a review of Garcinia Cambogia Ultra Max a product produced by Thrive Naturals. This weight loss supplement is said to be made from purely natural ingredients and subjected to third-party laboratory testing. Is this the product that will help you achieve your ideal weight? Read our review below for all the details.
Ingredients & How It Works
The main ingredients contained in the product are
Potassium (as potassium hydroxycitrate)
Garcinia Cambogia fruit rind extract (80% hydroxycitric acid)
Hydrocitric acid (HCA 80%) is an active ingredient removed from the peel of a pumpkin-shaped fruit called Garcinia Cambogia. It aids in weight loss by acting as a fat burner and preventing the formation of fat from carbohydrates in the body. It does so by blocking the enzyme citrate lyase that catalyzes the conversion of carbohydrates to fats. Potassium helps in the absorption of HCA.
Daily Serving
The recommended dosage is one capsule twice a day, half an hour before a meal, with a glass of water. A capsule contains 80% HCA with 1600mg of Garcinia Cambogia Ultra Max and 70mg potassium. For extreme weight loss, however, one can take three capsules twice a day 30 minutes before meals. It is however recommended to take not more than 3000mg of the product a day.
The Cost
A bottle of Thrive Naturals Garcinia Cambogia Ultra Max, which comes with a 30-day dosage, can be bought online at $43.95. A 90-day supply of 3 bottles, however, sells for $39.65 a bottle with free shipping; equivalent to a 30% discount. The 180-day supply (6 bottles) goes for $33.33 a bottle with free shipping equivalent to a 49% discount.
Guarantee
Thrive Naturals offer a risk-free 1-year money back or exchange guarantee for unsatisfied customers, which certainly seems to be the company's way of asserting the effectiveness of its product.
Our Review Summary Of Garcinia Cambogia Ultra Max
We believe Thrive Naturals Garcinia Cambogia Ultra Max could be an effective aid to your weight loss plan. We like the fact that the product is natural and that no synthetic components are used in its formula. We also like that it is third-party tested. Finally, the year-long money-back guarantee is certainly a plus, allowing new customers the freedom to try it risk-free to see if it works for them.
However, the product does suffer from at least one downside and that is the high cost. Perhaps you get what you pay for.
Well researched reviews, from the experts at Research & You.