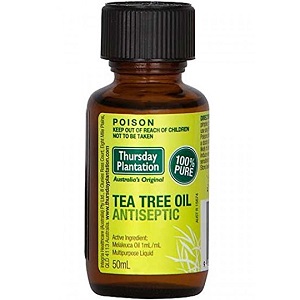 Thursday Plantation Tea Tree Oil - Does It Work?-Review
What is Thursday Plantation Tea Tree Oil?
The manufacturer of this product claims that the antiseptic factor of the active ingredient can stop the growth of bacteria and fungi, while cleaning and protecting broken skin. Furthermore, this product is said to treat fungal infections such as nail infections and athlete's foot. It alleviates acne, and pain of cuts, burns and stings.  and also kills 99% of household germs. The review below will examine this product, Tea Tree Oil, in more detail.
Ingredients & How It Works
The only ingredient in this product is melaleuca alternifolia (tea tree) leaf oil. Tea tree oil, toxic when taken orally, works well in dealing with fungi-related problems such as dandruff, but also athlete's foot and acne skin. Tea tree oil is, however, not promoted by researchers as effective in treating nail fungus infections, as the research on this product being too weak.
Daily Serving
The recommendation from the manufacturer is simply to use it externally only. The tea tree oil should be applied sparingly on the affected areas, when needed, using a cotton swab. No information is given on preparing the skin, or how many times daily this product should be applied.
The Cost
This product is not available for purchase on the manufacturer's website. However, it is available on other sites such as Amazon, where this product costs $19.19 (including shipping). This is a discounted price from $24.55 for a 50 ml bottle (a 22% discount). There are two other sizes of bottle produced by the manufacturer, namely, a 10 and 20 ml bottle, respectively. No bulk sale deals are offered.
Guarantee
The manufacturer does not offer any kind of guarantee. If the product is bought through a site such as Amazon the return policy of this site will be applicable. This implies that items may be returned within 30 days, unopened, for a refund.
Our Review Summary Of Tea Tree Oil
This all-natural product is claimed to be effective in treating fungal infections such as athlete's foot. In addition, the product, although not available directly from the manufacturer, is obtainable from third-party sites such as Amazon. On such sites this item is offered at a 22% discount.  In addition, the reviews are 90% trustworthy.
That said, there are some concerns with this antifungal treatment. Firstly, the product lacks any real guarantee. More so, even though Amazon may allow the return for a refund, purchasers are unable to test the product for efficacy or negative reactions. This is at odds with the company's suggestion that you should first conduct a skin patch test prior to using this product. It is possible to have an adverse reaction to this oil. Secondly, our research uncovered that no reliable study has agreed that tea tree oils may be effective in treating nail fungus, even though this is claimed for the makers of this product. The reviews on this treatment product do not mention success of this product for foot-related fungal problems, being more focused on acne problems.
Well researched reviews, from the experts at Research & You.