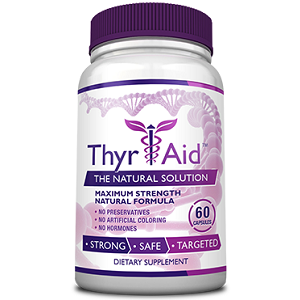 ThyrAid - Does It Work?-Review
What is ThyrAid?
This is a comprehensive and research-based review for a product called ThyrAid. Carefully extracted from over 16 natural ingredients, ThyrAid proves to be an effective thyroid supplement that works from the inside to tackle thyroid-related problems, specifically hypothyroidism. It aims to address symptoms such as fatigue while boosting the immune system. It also aims to effectively fight oxidative stress while maintaining a hormonal balance. The manufacturer states that caution should be used for those suffering from hyperthyroidism. Keep on reading this review for more tangible information to help you decide whether ThyrAid is the right product to address your thyroid concerns.
Ingredients & How It Works
Iodine & Kelp - Promotes a healthy metabolism, therefore, leading to weight loss and increased energy.
Selenium - An antioxidant that alleviates tissue inflammation which will stop the damage of thyroid tissue.
Magnesium - A mineral that acts as a regulator of body temperature. It also maintains a healthy metabolism.
Vitamin B12 - A key element that boosts the efficiency of cell metabolism & prevents hypothyroidism by increasing the production of red blood cells.
Zinc & Copper - Assists in the conversion of the inactive T4 hormone to the active T3 hormone.
Manganese - This enzyme acts as an antioxidant to protect and defend the thyroid from impending problems.
Molybdenum - An essential trace mineral in the body, it serves as a cofactor of enzymes that assists in the metabolism of fats and carbohydrates to maintain an effective pH balance.
L-Tyrosine - An amino acid vital for the production of thyroid hormones that control many metabolic functions.
Schisandra - An herb that has anti-viral, anti-histamine, and adrenal tonic qualities that promote hormonal balance.
Ashwagandha - It promotes thyroid hormone production, as well as, increases stress tolerance levels.
Bladderwrack - Regulates the functioning of the thyroid gland. Also, it helps with weight loss.
Gotu Kola, Coleus Forskohlii & Gugulipids - Natural herbal remedies used to balance, nourish and support the thyroid gland.
Daily Serving
As a dietary supplement, the recommended dose for adults is two capsules per day. Take one in the morning and one in the evening.
The Cost
You can easily buy ThyrAid online from the manufacturer. There is the offer of six different packages. The price of one bottle containing 60 capsules is $49.95. You can save money if you buy more bottles. For instance, if you purchase a six-bottle package, the total price will be $139.80, which means each bottle only costs $23.30. This is a saving of $280! You can also buy two, three, four, and five bottle packages.
Guarantee
The manufacturer offers a 60-day money back guarantee from the time of purchase. If the product does not meet your expectations, you can return both open and closed bottles within this period and receive a fill refund, minus shipping costs.
Our Review Summary of ThyrAid
ThyrAid has received numerous positive reviews from customers which is a clear indication that it delivers on its promise of being a total thyroid support system. The ingredients that this product contains also makes it one worth trying. The 60-day money back guarantee gives customers a perfect opportunity to test the product without the risk of losing their money. This product is also manufactured in a cGMP-certified facility so you know you are getting a safe and pure product. Based on the information we found for this product, it seems like a product worth your money.
Well researched reviews, from the experts at Research & You.