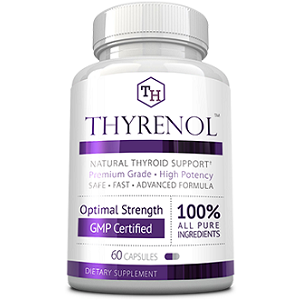 Thyrenol - Does It Work?-Review
What is Thyrenol?
For such a tiny gland, the thyroid carries a heavy load in keeping the body functioning. It is involved in the production and/or storage of hormones which affect the activity of many organs. It is a key player in metabolism and regulating energy levels. So it's not surprising that supporting and maintaining its optimal performance is the goal of a growing number of nutritional supplements, including the subject of today's review, Thyrenol. Thyrenol is designed, according to its manufacturer, to support thyroid health and take care of symptoms associated with Hypothyroidism. It is also said to provide essential nutrients to help prevent future difficulties associated with the thyroid gland.
If you're looking for a supplement with the potential to boost your thyroid health, read on for all the details about Thyrenol to get the information you need to make a knowledgeable purchasing decision.
Ingredients & How It Works
Each Thyrenol capsule contains the following:
Iodine and Kelp
Selenium
Magnesium
Vitamin B12
Zinc and Copper
Manganese
L-Tyrosine
Schizandra
Ashwagandha Root
Bladderwrack
Herbal Blend
Iodine and Kelp along with Magnesium and Vitamin B12 all contribute to improving metabolism. L-Tyrosine and Ashwagandha Root help with thyroid hormone production while the former, along with Selenium and Manganese, contribute antioxidant properties. The herbal blend is a proprietary combination of medicinal herbs that are used to nourish the thyroid gland itself.
Daily Serving 
The manufacturer recommends taking one capsule in the morning and one in the afternoon, for best results.
Those who are pregnant, nursing or with a medical condition, as well as anyone under 18 years of age should consult a doctor before starting to use this product.
The Cost 
You can buy Thyrenol from the manufacturer's website by choosing from among the following packages. A unitary bottle costs $49.95 while doubling your order to two bottles lowers the price per unit substantially to $34.95. A four-bottle set cost $27.95 while the "Best Value" pack, consisting of six bottles, costs $23.30 per unit. 
Each bottle contains 60 capsules and will last one month.
Guarantee
One of the most important features of a nutritional supplement that is aimed at improving your health is, in our opinion, a comprehensive return/refund policy. Thyrenol gets full marks on this point with its 60-day money back guarantee. If you're not satisfied with the results, you can return your purchase - all bottles, whether opened or still sealed - for a refund of your purchase price.
Our Review Summary of Thyrenol
Our review of Thyrenol leads us to the conclusion that it is worth trying if you need help with thyroid functionality. Thyrenol's ingredients were chosen only after having been shown to work, producing positive results for thyroid functionality, in clinical studies. It includes components that aim to reduce the symptoms of hypothyroidism and to prevent any further deterioration which might lead to thyroid conditions. We are fans of the strong, customer-centric money-back guarantee that enables you to try it without financial risk. And the fact that it is made in the USA according to cGMP standards in an FDA-regulated production lab is an additional advantage.
Well researched reviews, from the experts at Research & You.