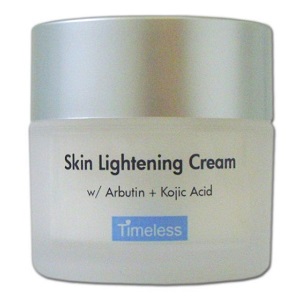 Timeless Skin Lightener - Does It Work?-Review
What's is Timeless Skin Lightener
Timeless Skin Lightener is a cream that contains four active ingredients which inhibit the production of melanin – the dark pigment in skin. It is thus used to lighten skin, and may have a beneficial effect in lightening dark spots. It is said to work gradually, and it could take a month or more before you see any results.
Ingredients & How It Works
Arbitin
Kojic acid
Magnesium Ascorbyl Phosphate
Licorice Root
Isopropyl palmitate
Timeless Skin Lightener contains a list of some 22 ingredients. We have highlighted only 4 which we were able to categorize as "active". In less expensive skin lightening products, the most common active ingredient is hydroquinone. This substance is now banned in many countries. All the active ingredients in Timeless Skin Lightener are recognized substitutes for hydroquinone. Arbutin, Kojic acid and Licorice Roo work by blocking tyrosinase and the production of melanin, this lightening the skin; while Magnesium Ascorbyl Phosphate, which is often used to protect the skin against the sun's ultraviolet rays, is also a common ingredient in skin lightening and brightening products. We also highlighted Isopropyl palmitate  because, while it does nothing to lighten or brighten skin,  may have some side effects you should watch out for including causing break outs in people prone to blackheads and oily skin.
Instructions
There is not much information provided by the manufacturer about how to use this product. It's recommended that you apply it twice a day – morning and night – to your cleansed skin. It is also recommended that you use it with sunscreen. However, it is not made clear whether the sunscreen should be applied before or after applying the skin lightener product.
Cost
You can purchase a jar of Timeless Skin Lightener directly from the manufacturer for $21.95.
Guarantee
The manufacturer offers a full refund, as part of its 30-day return policy. However conditions do apply. The most onerous is that returns must be made within 30 days of having placed the order. Products that have been opened and tried may not be returned for refund. In fact, returns are accepted only if there is some kind of "manufacturing defect" or shipping error. In addition, shipping, handling and other costs are not refundable.
Our Review Summary Of Timeless Skin Lightener
The most important thing to note about Timeless Skin Lightener is that it does not contain harmful chemicals like hydroquinone; nor does it work by harsh exfoliation of the top skin layer as do many other skin lightening formulations.
However, it contains 4 active ingredients which essentially all work to inhibit the production of melanin in much the same way. This makes us wonder how much of each ingredient in actually in the product and whether this could not cause lightening where none is actually required.
Because there are no instructions to the contrary, it seems that you would have to use your fingers to apply the cream. Due of the nature of the product's active ingredients, we would recommend that you wash your hands after application to prevent them from potentially becoming blotchy.
Well researched reviews, from the experts at Research & You.