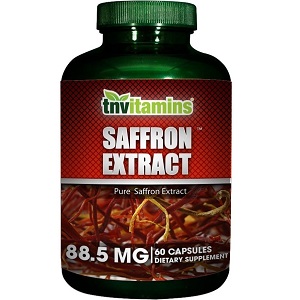 tnvitamins Saffron Extract - Does It Work?-Review
What is tnvitamins Saffron Extract?
In this review, we focus on the product Saffron Extract, by tnvitamins. This product is a dietary supplement, which has saffron as the main ingredient. Saffron is used for various health benefits, but the goal of this supplement is weight loss. The manufacturer of this supplement claims that their product is made of the purest extract of Crocus Sativus.
Ingredients & How It Works
This supplement contains 88.50mg of saffron extract. The active ingredient comprise safranal, crocin, and picrocrocin. Saffron is a mood booster. It calms anxiety that could lead to emotional eating. The result of taking saffron is therefore weight loss. While the saffron is a pure extract of Crocus Sativus, the inactive ingredients include cellulose, gelatin capsules, and vegetable magnesium stearate.
Even though the manufacturer claims that this product is suitable for vegetarians, this is not so. Neither is it suitable for vegans, this product containing gelatin, an animal product.
Daily Serving
The manufacturer recommends that one capsule be taken in the morning and one in the evening, with food. However, people should consult a doctor if taking anti-coagulants and anti-platelet medication, or suffering from a bleeding disorder or kidney disease, or are pregnant, before using this product.
The Cost
Saffron Extract by tnvitamins is available on the manufacturer's own website and online from third-party sites such as Amazon. One bottle of 50 capsules costs $9.98, which is the current discounted price. However, no bulk purchases are available.
Guarantee
The manufacturer offer a 90-day full refund on unwanted products, as guarantee.  Customers are asked to supply a reason for the return of the product.
Our Review Summary Of Saffron Extract
This product by tnvitamins, Saffron Extract, seems a worthwhile product at a relatively low price. Furthermore, the company offers a good guarantee to consumers. However, there are some concerns about this product. One issue is that the low price may indicate a problem – that, although containing pure extract of saffron, there are additives by way of fillers and binders to add volume to the product. This may also reduce the effectiveness of the product, as quality is lowered. Also, even though we searched for customer reviews, we were unable to find any. Customer reviews indicate whether or not a product is effective. Without such an aid, one has to use a product on good faith. It may therefore be better to select another similar product on the market, perhaps of better quality and on which the feedback has been positive and authentic.
Well researched reviews, from the experts at Research & You.