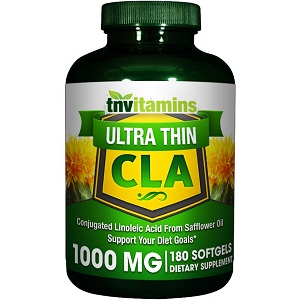 TNVitamins Ultra Thin CLA - Does It Work?-Review
What Is TNVitamins Ultra Thin CLA?
TNVitamins Ultra Thin CLA is a dietary supplement designed to help individuals achieve their dieting goals, according to the maker. It is said to help individuals drop body fat and gain lean muscle. It can be useful for losing that body fat without having to resort to extreme workouts or diets and is claimed to be useful for bodybuilders to help gain muscle easier.
Ingredients & How It Works
TNVitamins CLA only contains one ingredient: 1000mg of conjugated linoleic acid (CLA) derived from safflower oil. CLA has several benefits, but it is commonly used to help individuals lose weight. It is often referred to as a "miracle pill," because it helps people lose weight without forcing them to change their dietary or exercise habits significantly. Specifically, CLA helps individuals decrease their body fat, while also increasing the production of lean muscles. However, keep in mind that taking CLA could causes muscle gain, which could cause weight gain. This is nothing to be concerned about as muscle weighs more than fat, and does not mean an individual's weight loss plan is not working.
Daily Serving
The daily serving size for TNVitamins CLA is one capsule a day. Each capsule contains 1000mg.
Most health experts recommended taking between 1-3g of CLA a day in order to lose weight. TNVitamins falls at the very low end of this recommended serving range. Experts also recommend products that contain 80% CLA. TNVitamins is in the right ballpark here, as it contains between 78-84% of CLA.
The Cost
TNVitamins can be purchased on the manufacturer's website for $7.58. Each bottle contains 90 capsules, about a three month supply. It can also be purchased on Amazon. Amazon sells a 180 capsules bottle, about a six month supply, for $13.98, plus shipping.
Guarantee
The manufacturer offers a 90-day, money-back guarantee. The return policy states that any unwanted items can be sent back for a full refund within 90 days of purchase. However, this only qualifies for unused portions of a product. Customers will not receive refunds for used portions of their purchase.
Our Review Summary Of TNVitamins Ultra Thin CLA
TNVitamins is an average CLA supplement. It contains the correct concentration of CLA but a low quantity of the active ingredient (compared to the accepted range of daily CLA intake) to be minimally effective. While the product can be effective in helping individuals drop body fat, some customers have noticed it takes a while to start working. The manufacturer's return policy, however, is not particularly strong as customers will only be refunded for the unused portion of their purchase which feels a bit like being "nickled and dimed". TNVtamins Ultra Thin CLA is much less expensive than other CLA products but sometimes a cheaper product could indicate lower-quality ingredients.
There are not many customer reviews for this product, suggesting that it may not be widely used yet.
We are concerned that you may simply "get what you pay for" with this notably less expensive product and would suggest if you can afford better, go for that.
Well researched reviews, from the experts at Research & You.