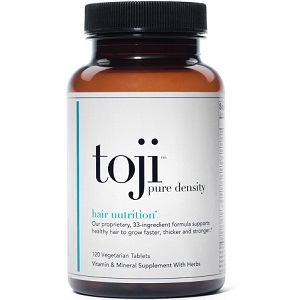 Toji Pure Density - Does It Work?-Review
What is Toji Pure Density?
Today we review Toji Pure Density. Every woman knows the effects shiny, voluminous hair can have on your self-confidence. Having great hair means you feel great in your skin, which is why it is a necessity to find a supplement that can take the health of your hair to the next level. Toji Pure Density claims to target dull, weak and dried-out hair by nourishing every strand with a 33-ingredients proprietary blend made from specially chosen vitamins and minerals. If you are interested in this product, then read the rest of our review below.
Ingredients & How It Works
Active Ingredients include:
Biotin 3000 mcg
Eclipta Alba
DHT blockers
Inactive Ingredients include:
Saw Palmetto Extract
Ginkgo Biloba
Grape Seed Oil
Vitamin E
Vitamin A
Vitamin C
Thiamine
Riboflavin
Niacin
Vitamin B6
Folic Acid
Vitamin B12
Pantothenic Acid
Calcium
Iodine
Zinc
Selenium
Copper
MSM
L-Cys
teine       
Saw Palmetto
Horsetail Extract           
L-Methionine
Linoleic Acid   
Gotu Kola Extract         
Bacopa Extract
Bamboo Extract            
Choline
PABA
Inositol
Sarsaparilla     
Ginkgo Extract  
Stinging Nettle Extract  
Grape Seed Extract
The 3 active ingredients Biotin, Eclipta Alba and DHT blockers increases hair follicles, promotes healthy hair growth and makes sure that adequate hormone production takes place in order to benefit the health of your hair. The inactive ingredients promote circulation of the scalp to better optimise nutrition uptake. This product also does not contain any artificial flavour or colour, but it does contain soy. We could not find any information stating if this product is suitable for vegans or vegetarians.
Daily Serving
It is recommended that you take 4 capsules of this supplement daily. It is best to take 2 capsules in the morning and 2 capsules at night, with meals. Results will be maximized if you take this supplement continuously for 6 months. This product does contain soy, and if adverse reactions occur whilst taking this supplement, discontinue use immediately.
The Cost
You can purchase this product directly from the manufacturer's website for $55.95 for a bottle containing 120 veggie capsules. You also have the option of partaking of the rewards program if you purchase directly from the manufacturer which could lead to discount offers. Currently, this product does not ship internationally.
Guarantee
This product comes with a 60-day guarantee if you feel that your hair has not improved since taking this supplement. You can return up to 3 bottles and they will also refund your shipping expenses.
Our Review Summary Of Toji Pure Density
We like that this product is packed with natural ingredients which claim to benefit your hair immensely. We also like that you have a 60-day guarantee if you feel you did not benefit from this product. However, we feel that this product is not competitive at all when it comes to its expensive price, considering the fact that one bottle is only going to last you one month. We are also disappointed that there is ingredients included that could cause an allergic reaction to those sensitive to soy. Vegans and vegetarians will also not have peace of mind when purchasing this product, since we do not know if any animal products were used in making it.
Well researched reviews, from the experts at Research & You.