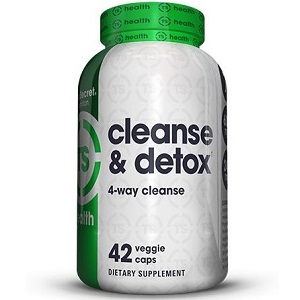 Top Secret Nutrition Cleanse & Detox - Does It Work?-Review
What Is Top Secret Nutrition Cleanse & Detox?
This review is for a dietary supplement called Cleanse & Detox from Top Secret Nutrition. According to the manufacturer, his dietary supplement is a great option for people who want to cleanse their bodies of stored wastes. A good option for many people is to participate in a 7-Day Detox and this product will provide your body with excellent support during this detox. Additionally, the manufacturer of this product claim that continued use of this product will provide a gentle cleansing effect while also improving your digestion and reducing the discomfort associated with poor digestion.
Ingredients & How It Works
Total Body Blend
Liver Cleansing Blend
Vegetable Cellulose
Magnesium Stearate
Silicon Dioxide
At first, when we examined the ingredients included in this formula we found that it could be an effective dietary supplement. However, we were concerned about a variety of things that came up during our research. There are more additives, preservatives, fillers, and binders included in this formula than we would expect in a product like this. These additional ingredients could make this product unsuitable for individuals who suffer from allergies. Additionally, we were concerned that this product does not contain several of the vital ingredients you would expect in a product like this.
Daily Serving
The manufacturers of this dietary supplement recommend that you take three capsules twice daily. They claim that optimal results can be achieved if you take three capsules as soon as you wake up and the remaining three capsules before you go to sleep at night.
The Cost
This dietary supplement is available for $24.99 for one bottle. However, you will be able to save up to 24% on the usual list price if you subscribe for repeat deliveries of this product. This means you will only pay $18.88 per bottle. Sadly, we were not able to find any information regarding shipping for this product so you will probably have to pay extra to ensure that you receive your purchase.
Guarantee
When you purchase one of these dietary supplements, you immediately receive the Norton Safety Guarantee. With this guarantee, you receive identity theft protection as well as a refund that is valid for sixty days if you are not happy with your purchase. Sadly, we were not able to find any customer reviews for this product to give us an indication of what people think of this product.
Our Review Summary of Cleanse & Detox
When we completed this review, we concluded that this product could be an effective solution for individuals who want to help their bodies get rid of wastes and toxins that have been stored. We were rather impressed by the money back guarantee provided by the manufacturer. Additionally, there was a wide variety of positive reviews for this product, which we found encouraging. However, there are a few issues with this dietary supplement that cannot be overlooked. This product contains a variety of additional ingredients that are not necessary. Additionally, this product is not suitable for individuals who follow a strict vegan or vegetarian diet.
Well researched reviews, from the experts at Research & You.