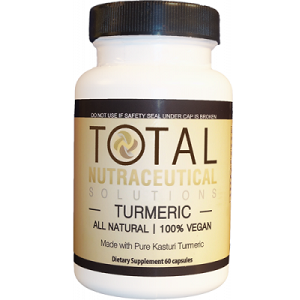 Total Nutraceutical Solutions Turmeric All Natural - Does It Work?-Review
What is Total Nutraceutical Solutions Turmeric?
This review is for a herbal dietary supplement called Turmeric All Natural. Turmeric is a spice which is often used in Asian cuisine. However, the active compound in turmeric known as curcumin has been associated with countless health benefits. One of the most significant properties of turmeric is its anti-inflammatory compounds. This means that it can significantly decrease feelings of pain and inflammation in the joints. Additionally, turmeric can strengthen the immune system due to its antiseptic properties meaning that individuals who include turmeric in their diets are less likely to get colds and flu.
Ingredients & How It Works
This product is made from 100% pure Kasturi turmeric with each capsule containing 100mg. The active compound in turmeric is curcumin which is both an anti-inflammatory and antioxidant which means that it is very effective for relieving the symptoms of several common afflictions. Although the manufacturers claim that their product is safe for vegans to use there is no information regarding the additional ingredients included in this product. Due to this lack of information, we would not recommend this product for individuals who follow a strict vegan diet.
Daily Serving
According to the manufacturers of this product, you should take two to four capsules daily. In effect, the manufacturers of this product recommend that you take between 2000 and 4000 mg of this dietary supplement each day. We believe that this is an excessively large dosage, most other products which contain similar ingredients recommend that an adult consume no more than 1000 mg of curcumin each day. Individuals who consume an overdose of curcumin often report feeling nauseous, dizzy and diarrhea. In extreme cases, dangerously abnormal heart rhythms had been noticed.
The Cost
You can buy this dietary supplement directly from the manufacturer. If you purchase this online from the manufacturer you can expect to pay $14,99 for a bottle which contains 60 capsules. When taking the dosage recommended by the manufacturer one bottle should last you about a month. Unfortunately, the manufacturers of this product do not offer special discounts for bulk purchases.
Guarantee
After doing an extensive search on the manufacturer's website we were unable to find any information regarding a guarantee for this product. This is quite concerning as it indicates a lack of confidence in their product. Additionally, it does not seem that there are any return or refund policies in place.
Our Review Summary of Turmeric All Natural
When we completed this review of Turmeric All Natural there were a few things that we liked about this product. It only contains natural ingredients which may decrease the appearance of inflammation. This product is also very reasonably priced. However, the incredibly high dosage coupled with the fact that there is no guarantee available for this product means that we are unlikely to choose it as our favorite. Additionally, the manufacturer makes questionable claims about the nature of their product, stating that it is 100% vegan without providing evidence for that fact.
Well researched reviews, from the experts at Research & You.